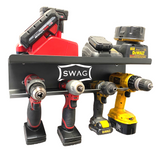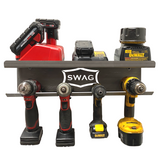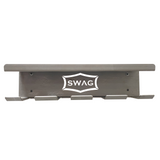 A clean shop is a productive shop and work is more efficient when everything has it's place. Laser cut and CNC formed from 12 Gauge steel, the Tool Wall Mount will keep your drills, impact guns, batteries, and chargers organized and easily accessible. Space for 4 tools and 3-4 chargers, The Tool Wall Mount can be customized to fit your needs. Each slot is 1.75" wide and will accommodate a wide range of tools from most manufacturers. We have included a formed lip to keep your tools nice and secure while mounted. There are 4 holes in the back (16" spacing) so you can easily secure the mount to the studs in your shop. The top shelf is a great spot for your batteries, chargers, or a case of bits.
The Cordless Tool Wall Mount measures 20" Wide x 5-7/8" Tall x 6" Deep.
bought another
I bought one, when I got it I ordered another, very nice..
Cordless tool wall mount.
Exactly as expected.super nice and clean looking. Painted it to match my clutter catcher. Look forward to using it.
Perfect
This thing is a huge space saver for me.
I wish I had this thing years ago. It cleared up my workbench and helped me organize
my work space. Very solid construction too.
Heavy Duty
These are very nice and heavy duty compared to most any other tool organizer I've checked out. I bought 2 and spaced them apart to fit an extra tool. Wish I'd have bought them sooner.
great setup
This unit is a great idea I ordered mine without power coating so I can modify min to hold different tools. Very well-built heavy duty.