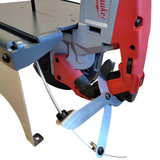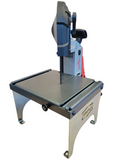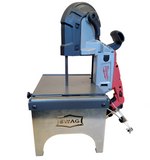 SWAG "Choke Out" Trigger Control Kit

Tired of reaching around your Portaband table to squeeze the trigger and turn on the saw? The SWAG Choke Out allows you to turn your saw on and off with a simple pull tab located conveniently on the front edge of the table. The Choke Out Kit is compatible with both our Base and Pro Model table and will work with any Portaband. The Choke Out Kit consists of a formed aluminum clamp and a choke cable. The choke cable is attached to the table by drilling a single 3/8" hole on the front edge. The formed clamp attaches to your saw using a Velcro strap. No modification to the saw is required. Assembly is quick at ~15 minutes.

Once you have the Choke Out assembled, pulling the handle of the choke cable 2"-3" is all it takes to turn on your saw. When you have finished cutting, push the handle back toward the table and the clamp will release the trigger.

Unfortunately, our foot switch is incompatible with cordless saws which is why we originally developed the Choke Out. Even if you have a corded saw, the Choke Out still has some advantages. With a momentary foot switch, you need to keep your foot in a single position while you press the pedal, this can be difficult if you are cutting a complex part and wish to move around to see your work piece. With the Choke Out, the saw is kept on for you, so you are free to move as you see fit. On some of the larger saws (Milwaukee, some Dewalts, Etc.) the speed of the blade can be adjusted based on how hard you pull the trigger. Our foot switch allows you two options, on or off. With the Choke Out, you can adjust the speed simply by how far out you pull the choke cable.



NOTE: 

Some Cordless saws include a trigger safety that must be pressed prior to pulling the saw's trigger. This feature is easy to bypass using a small clamp or a piece of wire.