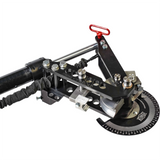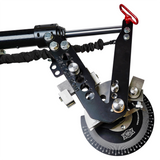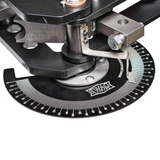 SWAG REV 2 Tube Bender
The

REV 2

is designed, machined, formed, manufactured & assembled in the USA.
Introducing the REV 2 Tube Bender - the latest addition to our line of high-quality tube forming tools! We are thrilled to finally offer our customers the reliable and precision tube bender that they have been asking for. The REV 2 is the result of years of research and development, and we are confident that it is the best tube bender in its class.
One of the key features of the Hulk Tube Bender REV 2 is the tight tolerances. All of the components have been precision machined. It is equipped with oil impregnated phosphor-bronze bushings that ensure smooth operation with minimal slop. This means that you can expect a solid and dependable machine that delivers precise bends with each use. The REV 2 also boasts an extremely accurate degree wheel, which is made from anodized and machined aluminum. This, along with the stainless steel indicator arm, allows for precise bends every time.
We understand that versatility is key when it comes to tube benders, and that's why the REV 2 is an evolving project. We currently have 37 die sizes in stock, but we plan on covering all common materials in the near future. In addition, we are also working on offering a full manual option and a full hydraulic option, so that you can choose the right tool for your needs. We also have some unique upgrades in the works already that you'll be able to add directly to your existing machine.

In this business, time is money, which is why we want you to hit the ground running with your new REV 2. The machine comes 95% assembled, so you can start using it right away. All you need to do is set up the degree wheel, slide in a die, and get started on your next project.
Please note that the REV 2 includes the Air/Hydraulic Ram Mount and the Elastic Return Spring, but the RAM IS NOT INCLUDED unless selected. Additionally, DIES ARE NOT INCLUDED UNLESS OTHERWISE SELECTED. If you have any questions about the product or how to use it, please don't hesitate to reach out to us. We are proud of our name and reputation, and we stand behind our products. Get your hands on the REV 2 Tube Bender and take your metalworking projects to the next level!
The REV 2 Bender does include a mounting plate with a 2" receiver hitch welded to the bottom. This creates a wide range of mounting options be it a rolling stand, fixed pedestal, or welding table mount. As long as you have ~5" of 2" square tube sticking up from your custom stand, it will slide right into the hitch mount and lock in place with the included hardware.
The Ram Mount is designed to accept Air/Hydraulic Rams with an 80mm body. The Ram we offer will fit, as will the new Pittsburgh Ram from Harbor Freight and the Northern Tool 8 Ton Long Ram. Please note, Vevor lists their ram as 80mm but it is actually 3.1" (78mm) and will not work with our mount.