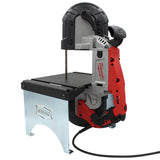 SWAG V4.0 Portaband Table
Please verify that your model of saw is listed below as a supported model of the SWAG V4.0 table.
Milwaukee

6232-20, 6232-21,6232-80, 6232-81, 6238-20, 6238-21 & BS125
Milwaukee Fuel M18

2729-20, 2729-21, 2729-22 & CBS125
Here at SWAG our Portaband tables are built for individuals looking for quality, 100% American made tools at an affordable price. Designed for those working with limited space and or those looking to maximize the full potential of their hand held band saws.
Product evolution and expansion has led us to SWAG Portaband table V4.0. The SWAG V4.0 features built in dual miter gauge slides, 1/8" thick bolt on steel legs to greatly reduce shipping cost, a fixed center section and an improved blade slot with narrower window to reduce potential blade binding.
To convert your saw into a vertical band saw installation could not be any easier, slide the adjustable foot guard to the furthest forward position then insert the saw into the stand and tighten the provided red thumb knob, that's it. You now have a saw that performs two functions, a portable band saw and a vertical band saw that does not require any tools to switch between the two functions.
Our V4.0 table is cut on a CNC laser out of 3/16" thick steel plate, formed on a CNC press brake and weighs in at ~ 18 pounds for ultimate durability. The table dimensions are 9.75 tall, 11" deep & 13.5" wide. With the saw installed the overall dimensions are ~22" tall, 18" deep & 13.5" wide.
This kit contains all the necessary hardware to attach the Milwaukee deep cut Portaband saw on the SWAG V4.0 Portaband table.
Imagine how easy your job is going to be using the foot pedal to start and stop your SWAG Portaband table. Plug your Portaband power cord into the outlet on the foot pedal. Plug the foot pedal cord into a 110 volt outlet. Press the pedal to start the saw, then remove your foot to turn the saw off.