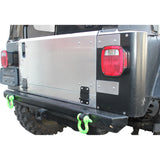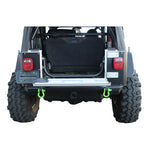 Jeep Wrangler "Flat Back" Aluminum Drop Down Tailgate Conversion Kit
The only kit out there in the market that converts your factory swing out tailgate into a drop down tailgate. This robust drop down tailgate conversion kit is designed to easily hold over 400 lbs. This kit is compatible with your factory hard or soft top, so you can easily keep water and thugs out of the back of your Jeep.
The tailgate conversion kit uses your existing tailgate latch mechanism so your tailgate will remain lockable and rattle free. The kit installs with minimal shop tools and no welding is required for installation

The SWAG drop down TJ-YJ tailgate is CNC laser cut from 3/16" 6061-T6 aluminum plate that provides superior corrosion protection and reduces the total overall weight. Each drop down tailgate kit comes standard with stainless steel fasteners for sleek appearance. We used the very best hinges in the industry.

This kit will work with any aftermarket 3/16" corner armor. This product is shipped in bare raw aluminum and will need to be powder coated, painted and or left raw aluminum. A solid aluminum bottom panel will be supplied with every drop down tailgate kit sold.
Your spare tire will need to be attached with an after market swing out tire carrier. This kit is compatible with either a bumper mounted tire carrier or a tub mounted tire carrier.There are dozens of designs and manufactures to pick form depending upon your requirements and the amount you are looking to spend.
NOTE: This kit does not include a complete tailgate.
A drop down tail gate has many ideal uses, here are a few that previous customers have sent to us.
The ultimate off road work bench trail repair station,its always with you
The perfect place to set the Coleman camp cooking stove.
When it rains I can lift up the hard top glass and sit on a dry tailgate.
With two kids In diapers, it is the only flat spot on a Jeep.
What good is a tailgating party with out a tailgate.
Take the rear seat out and I can easily sleep in the back.
It is a great place to sit and watch people after I've broken my Jeep.
A great place to set my tool bag, and have a trail side picnic.
Who needs a drop down tailgate, I love getting hit in the back when parked on a hill with my swing out factory tailgate.
Overrated
Idea and price are enticing but that's where the positives end. Cheap hinges, Chinese stainless panels and generic fitting. Online pictures look much better than in person. Customer service is lacking as well. Will never order from SWAG again.
As a retired combat veteran, I stand by my work, confirmation of crap parts and interactions with the company.
Clark,
We appreciate your feedback.
That being said, our policy is to respond directly to reviews that contain misleading information regarding our products. The hinges are made of 304 Stainless steel by Kentrol, an American company. These are aftermarket Jeep hood hinges that are frequently used by Jeep owners specifically because they are more robust than the OEM Hinges. They come with a lifetime warranty from Kentrol.
The tailgate plates are made of 1/8' Aluminum, not stainless steel, and they are cut out right here in Oregon. When an order is placed, the customer selects the year of their jeep, the tailgate plates are cut specifically to fit that year jeep.
In regard to the claim of lacking customer service, we have had exactly one interaction with you. You emailed us on July 7th at 2:38pm requesting a return. You did not mention your complaints regarding the product in that email. In fact, you requested the return specifically because 'you wanted a full tailgate, not just a drop down kit because your tailgate is damaged beyond repair,' (which I assume is why the aluminum panels didn't fit on your Jeep.) We responded on July 7th at 3:08pm, (half an hour later,) with return instructions and information regarding our refund policy. You never responded to that email or returned the product. I try not to assume intentions from bad reviews, but the combination of false information regarding our product and our interaction via email leads me to question if this negative review is really just because we do not offer free returns?
If you have any questions, feel free to send us an email at sales@swagoffroad.com
Thank you,
SWAG Off Road
Great product
Really like the kit makes the tailgate so much more functional. The instructions could have been a little more detailed for the particular installation (Flat back). But it is a great product. Saved me a lot of time in fabrication.
Flat back tailgate
Very nice indeed. I didn't realize however that I'd need to cannibalize my factory tailgate, and I sold it so now I'm temporarily stuck. My bad, but it fixable in the end !.
its fantastic, but there's one thing that would make it better
I got this kit for my YJ quite a while ago, and it's excellent - there's nothing else that looks like it and the functionality is awesome. One issue that I have experienced, though, is that since the cables that hold the tailgate up are just mounted to the tub with big sheetmetal screws, eventually the thin sheet metal of the tub starts to bend and the screws begin to pull out. I have thus far solved this for one side of my tub by taking a piece of 1/4 aluminum plate and fabricating a backing plate for the cable bracket, and then tossing the sheetmetal screws and using bolts with lock nuts on the other (exterior) side of the tub. When I tightened it all up, it was bulletproof and the plate bent the tub back into shape. Now I have to do the other side, which wasn't pulling out, but which is bent (and is now loose). Bottom line here is this is an awesome kit that could be perfect if it ditched the sheet metal screws and went with nuts/bolts and some backing plates made of the same 1/4" aluminum as the parts themselves for the tub to cable mount brackets.
Very nice kit pretty simple with a little mechanical knowledge and understanding I highly recommend