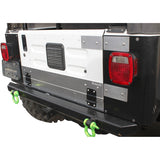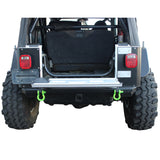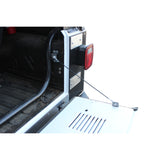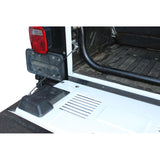 Jeep Wrangler Aluminum Drop Down Tailgate Conversion Kit
The only kit out there in the market that converts your factory swing out tailgate into a drop down tailgate. This robust drop down tailgate conversion kit is designed to easily hold over 400 lbs. This kit is compatible with your factory hard or soft top, so you can easily keep water and thugs out of the back of your Jeep.
The tailgate conversion kit uses your existing tailgate latch mechanism so your tailgate will remain lockable and rattle free. The kit installs with minimal shop tools and no welding is required for installation
The SWAG drop down LJ-TJ-YJ tailgate is CNC laser cut from 3/16" 6061-T6 aluminum plate that provides superior corrosion protection and reduces the total overall weight. Each drop down tailgate kit comes standard with stainless steel fasteners for sleek appearance. We used the very best hinges in the industry.
This kit will work with any aftermarket 3/16" corner armor. This product is shipped in bare raw aluminum and will need to be powder coated, painted and or left raw aluminum. A solid aluminum bottom panel will be supplied with every drop down tailgate kit sold.
Your spare tire will need to be attached with an after market swing out tire carrier. This kit is compatible with either a bumper mounted tire carrier or a tub mounted tire carrier.There are dozens of designs and manufactures to pick form depending upon your requirements and the amount you are looking to spend
NOTE: This kit does not include a complete tailgate.
A drop down tail gate has many ideal uses, here are a few that previous customers have sent to us.
The ultimate off road work bench trail repair station,its always with you
The perfect place to set the Coleman camp cooking stove.
When it rains I can lift up the hard top glass and sit on a dry tailgate.
With two kids In diapers, it is the only flat spot on a Jeep.
What good is a tailgating party with out a tailgate.
Take the rear seat out and I can easily sleep in the back.
It is a great place to sit and watch people after I've broken my Jeep.
A great place to set my tool bag, and have a trail side picnic.
Who needs a drop down tailgate, I love getting hit in the back when parked on a hill with my swing out factory tailgate.
YJ Tailgate
Looks to be high quality. Can't wait to install it.
bad to the bone
I love it I can now open my tail gate.
Simple But Tedious
The concept is easy enough but instructions are not too clear. In this day and age clear pictures ought to be easy to produce. Frankly, an app or some video should be the norm. I had to lower my bumper about 1 1/2 inches. That took some time. SWAG really doesn't prepare you for that. Two of the three aluminum cover plates are too short -- by a huge amount. I have to chock that up to poor quality control. The kit works but. . . .
Way better
The factory side swing tailgate was basically useless when open. Swag's fold down conversion completely changed the functionality of the back of my Jeep. It's great to sit on at a bonfire party, a handy table and I've even used it to extend the cargo area allowing me to haul several coolers. Plus, a tailgate party with a side swing tailgate is a lame party.
It was easy to install. Took just under two hours and I didn't even have all the exact right drill bits. I wouldn't own another Jeep with a factory tailgate again.
Thanks, Swag,
Love it but needs improvements on instructions
So first this is not the first mod my buddies and I have done. In addition both of them have rebuilt cars from ground up and both are mechanical engineers. Between us 8 fully restored rigs.
I love the tailgate and the mod makes it much easier for loading scuba gear. Also a great place to hang. It was pretty much a no brainer once we threw away the instructions and made a few trips to the hardware store.
Missing bolts, wrong dimensions, and unclear instructions in a few points. Hole demensions incorrect for deep socket. Didn't take into consideration that a nearly 30 yr old jeep would have star nuts that have to be drilled.
Again, love the tailgate but when I do my JK I will look at other options.
Tailgate closes smoothly and is a great mod. Took is about 4.5 hours… 30 was for a trip to get missing bolts