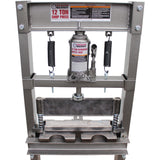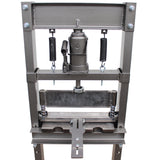 12 TON Finger Brake DIY Builder Kit
Press Brake kit comes unassembled, you do the final assembly and welding.

Designed to fit the Harbor Freight 12 ton hydraulic press Item # 33497

Press brake kit includes an adjustable back stop for accurate and repeatable bends.


Max Bending Radius (deg.) 110
Max Bending Capacity 3/8" plate
Max Bending Width 13.85"
Total width of the brake is 16.375" wide
It is capable of bending mild steel in the following length and thickness:


13.85" = Full bending width of the bottom die on anything 1/8" or thinner.
8" in 3/16"
6" in 1/4"
2.5" in 3/8"
Please provide us a valid shipping address that UPS/FEDEX will deliver to.
NOTE: Shop Press and Bottle Jack are NOT Included. Tools required for assembly: welder, grinder, level, small square.

The DIY 12 ton finger press makes a great addition to the arbor press plates we sell HERE.
Related Products
Regular price

from $314.95
Sale price

from $314.95
Unit price

per
Free Shipping
Sold out
New
Backordered
Regular price

$16.95
Sale price

$16.95
Unit price

per
Free Shipping
Sold out
New
Backordered
Regular price

$14.95
Sale price

$14.95
Unit price

per
Free Shipping
Sold out
New
Backordered
I don't have a harbor freight press
I love the brake however since my press is not from HF I had to use a 12 ton brake in my 20 ton press. It would be awesome if you offered some different parts based on different dimensions of presses. I had to make some modifications to make the 12 ton work in my press. I'm not hating on it because it's a great tool. Not everyone buys from HF.
Great addition to a home shop
Kiss the days of a vise and acetylene torch goodbye! This is a great brake for light to medium duty task I use it to bed 3"x1/4" flat bar for A/C cages works fantastic. Easy to get accurate and repeatable bends would recommend
Mr
I found this press break thanks to a very well targeted Instagram ad. I had been looking for something exactly like this press break to make some suspension components for a custom hot rod. I welded it up and was bending 3/8 steel plate with trivial ease! Fantastic tool! I probably spent more time and materials welding it than the $100 extra to have it done at the factory. I love welding, so that's fine, but something to keep in mind. Highly recommend!
Shade tree mechanic
Good craftsmanship, does what it was built for.
****
Well made , great quality Prompt delivery and easy to use