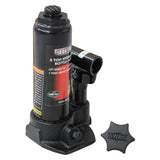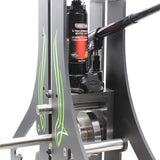 3-D Printed Thumb Knob For Bottle Jacks With A "Flared" or "Cast Cross Pin" Open/Close Valve
We save you the hassle of using the 18" long handle to open and close the pressure release valve on many of your bottle jacks or long rams. This 3-D printed knob is designed for the flared or "smashed" pressure release valves as well as the "cast cross pin" release valves that are found on many newer bottle jacks. These alternative styles of release valves are less expensive to manufacture than the machined round valve with the pressed in roll pin.
The flared end or cast cross pins on these bottle jacks vary significantly from part to part, hence a machined knob does not make a good candidate as it will not conform to the different profiles on the bottle jacks.

To install the 3-D printed knob, you simply press the knob over the release valve and tap it down into position with a rubber mallet....that's it.
NOTE: If your bottle jack has a round stud with a cross pin, you will need our machined thumb knob which can be found HERE.
Thumb knob for hydraulic jack.
No more handle
Easy to attach to my shop press. No more fumbling for the handle. Saw it on You Tube had to have it. Easy to order, works perfectly. Arrived ahead of schedule. Will recommend to others. Great product.
Good handy product
Had to buy this for my table top press, tired of using the silly handle which was made to apply more force as well as to reach the bottle jack. You surely don't need a handle to open and close the jack. But now I got to invest in a 3D printer so I can make my own $3 item!
Looks and works great
I have the air assist Harbor Freight 20 ton jack. This one doesn't have the removable pin so I had to get this style. Installation involves removing the knob from the package and putting it on the release. That's it. A small magnet holds it on. It's a little wobbly so a light touch is needed. Pretty easy to get used to using it though. Really, it's the only way to get knob on this style of pump.
Jack knob
Works as advertised. Fit on perfect.