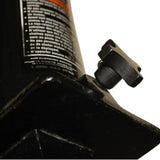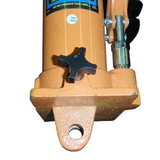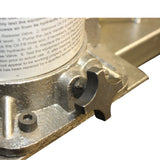 Machined Thumb Knob For Bottle Jacks (Round) Open/Close Valves
We save you the hassle of using the 18" long handle to open and close the pressure release valve on any of your bottle jacks or long rams. It is fully machined out of steel with a black oxide finish and built to last. The inside diameter of the thumb knob that fits over the pressure release valve is 0.37"
To install you simply press out the roll pin on the ram, slide over the SWAG machined thumb knob then reinstall the roll pin.
Note: If your bottle jack release valve has a flared or "smashed" end, or a cast cross pin, you will need our 3-D printed thumb knob which can be found HERE.
Bottle jack nob
Very satisfied with the fit and finish of nob retrofit. Highly recommend and plan on buying another.
Thumbs up.
Quality product, easy install, fast service.
bottle jack knob
fit and works as it`s supposed to
Release knob
Well made fit my 20t harbor freight jack perfectly no slop
Useful enhancement to your hydraulic cylinder pressure release valve
I installed one of these on the cylinder on my shop crane and my 20-ton press. The knob fits right on the shaft of the valve on the press's cylinder, but I had to drill the other out to 7/16" to fit my shop crane relief valve (not a big deal to me). These are handy and I feel it gives me more control than using the jack handle. Plus, I can have one hand on the SWAG knob while using the jack handle to lift for really precise control. I'd buy these again if needed.