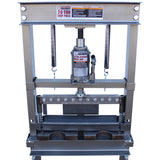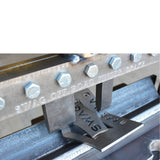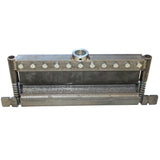 Heavy Duty 20 TON Finger Brake Press DIY Builder Kit
Press Brake kit comes un-assembled, you do the final assembly and welding. Designed to fit the Harbor Freight 20 ton hydraulic press Item # 32879 & 60603. Press brake kit includes an adjustable back stop for accurate and repeatable bends.
The top clamping bar is machined out of 4140 material and includes 5 segmented removable sections. 1", 2", 3", 4" and 9.5" long pieces. These segmented blocks can be removed and rearranged to allow bending of restricted areas on a piece of sheet metal or on an already partially formed pieces.
The heavy duty press brake kit has the same quality construction and number of components as the standard press brake kit, however the differences are as follows. The bottom formed channel on the HD press brake kit is cut out of high strength 3/8" thick steel and the bottom "V" die of has a total size of 3.75" wide x 1/4" thick to allow for easier bending of thicker material.
Max Bending Radius (deg.) 110
Max Bending Capacity 5/8" plate
Max Bending Width 19.25"
Total width of the brake is 22.125" wide
Tools required for assembly, welder, grinder, level, small square.
It Is capable of bending mild steel in the following length and thickness.
19" = Full bending width of the bottom die on anything 3/16" or thinner.
15" in 1/4"
13" in 5/16"
11" in 3/8"
6" in 1/2"
3" in 5/8"
Please provide us a valid shipping address that UPS/FEDEX will deliver to.
NOTE: Shop Press and Bottle Jack are NOT Included
NOTE: The optional centering tabs provided with the finger break do not come attached on the fully welded kit.
The HD DIY 20 ton press makes a great addition to the arbor press plates we sell HERE.
I'm no stranger to how parts are welded or formed in that I work at a plant whose sole purpose is to do exactly that, and am curious if the outer pieces r formed as such on purpose. They stick out. The instructions nor do the review videos ever mention this.you can see from the picture that the part cut is tapered from the bend, idk if this will effect performance or not? Haven't yet assembled but am hopeful considering swags good reputation.
Tj,
Thank you for your order and I do apologize for the confusion regarding the extension tabs being bent slightly further out than the rest of the bottom tray. This is intentional and necessary for the proper function of the 20 Ton Heavy Duty Finger Brake when used inside of a Harbor Freight 20 Ton Shop Press. Those ears on either end of the bottom tray need to be slightly forward of the rest of the bottom tray so that the 'optional centering tabs' (as describing in the instructions) will center the brake (front to back) in the Harbor Freight Press when the centering tabs are butted up against the vertical of the shop press. Our standard duty 20 Ton brakes have the same feature, though much more pronounced since the bottom tray is narrower front to back. You can see the extensions on the standard duty brake in the photo linked below.
https://www.swagoffroad.com/cdn/shop/products/IMG_1801-1A_1024x1024@2x.jpg?v=1628666795
Please don't hesitate to reach out to us if any other questions come up.
Thank you,
SWAG Off Road
Perfect addition to shop press
Excellent quality product. Instructions are easy to follow and is easy to build. Have used to bend a few things so far and works great.
Works as advertised
This is a great accessory to my 20 ton press. It opens new capabilities to me. I will be getting the other die sets soon, for even more capability. The set-up is straight forward, the quality is superb, and the function is great.
Great 👍
Haven't used yet. Put it together with no problems. Did a test and works great.
20 ton heavy duty finger break
I purchased this as a wiy kit. The written instructions are pretty clear and easy to follow, and the added benefit of having multiple videos on YouTube makes it that much easier. I have a hobbyist/garage/part time fabrication business and often find myself making different bends in flat stock/plate steel. This kit makes it super easy to just pop it in, bend it to the desired angle and weld it up. All in all, awesome, must have tool for any serious hobbyist and small to medium fabrication shop. We appreciate you over at MP Fabworks