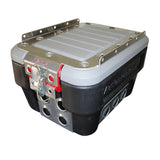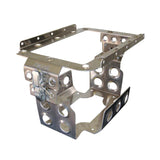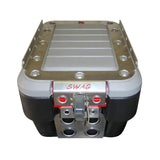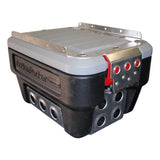 Action Packer Baja Bin 8 Gallon
The ultimate way to secure your loose cargo and tools in the back of your Off road and or exploration vehicle. Designed to fit the 8 gallon Rubbermaid Action Packer like a glove.
High quality American construction made entirely out of 1/8" aluminum, cut on a laser and formed on a press brake for a precise fit every time. Guaranteed not to rattle and engineered to withstand the abuse of off road driving, while weighing in at a mere 6.0 lbs.
The Baja Bins are available in two configurations, hinged on one side or dual clasp design for tight clearances where overhead clearance is an issue. You will need ~6" of clearance behind the hinged Baja Bin to allow the top lid to fully open.
The laser cut holes in the Baja Bin are standard sizes .50", .75", 1.25", so they can be dimple die by SWAG or end user if desired. The top lid rail makes an ideal tie down point for securing loose cargo, camp chairs or small day coolers.
For piece of mind and security the locking clasp accepts standard 5/16" dia pad lock. Included with each Baja bin is a steel locking pin secured by a cable lanyard, this is to be inserted in the clasp to prevent accidental opening of lid under harsh conditions.
Please note, the Rubber Maid Action Packer and Baja Bins are designed for securing loose cargo while off road driving, however over time the plastic bins will break down and loose strength, for this reason we do not recommend them for extreme off road racing conditions.
The Baja bin is well suited for your 4x4, UTV, desert car, or securing an Action Packer to your trailer, if you looking to go bigger check out our 24 gallon Baja Bins.
The action packer plastic bins are not included. Looking for a place to purchase them, try the following links below:
ActionPacker® Storage Box - 8 gal
Size 19.9"L x 14.1"W x 12.1"H
Utv
Works perfect on my rhino rack . ON MY POLARIS general
Mr
Excellent quality, good product.