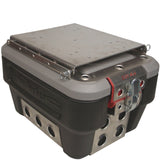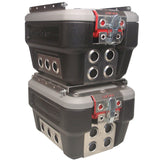 Alumi Lid, 8 Gallon Baja Bin Accessory
The ultimate way to secure your loose cargo and additional accessories to the top rail of our 8 gallon Baja Bins.
High quality American construction made entirely out of 1/8" aluminum, cut on a laser and formed on a press brake for a precise fit every time.
The Alumi Lids are easily removed from the top rail of the Baja Bins by pulling the two detent rings and lifting the lid up 20 degrees, then slide it out towards you.

The Alumi Lid has an abundance of holes that are laser cut into the top surface. The bolt patterns allow you to easily attach the following items with out any drilling or modifications.
Swag 8 gallon Baja Bin
(2) 16 quart Coleman Coolers

1 or 2 Roto Pak fuel storage tanks
Artec Industries Quart Crates their PN QC0102
Power Tank on board air
Neither the action packer plastic bins nor any of the accessories shown are included. Looking for a place to purchase the bins? Try the following links below:
ActionPacker® Storage Box - 8 gal
Size 19.9"L x 14.1"W x 12.1"H
Owner HEDRICK Speedsports
Going along with our Baja Bins, we found these lids SUPER useful to be able to mount other products on top of our Baja Bins. Great add-on product. We used one set to mound our 10 lbs. Power Tank to the top of the Baja Bin, which worked out very nicely.
Alumi Lid
Great addition to the Baja Bin I installed in my YJ. The holes are awesome to carry everything I might need on the trail. I've used it to hold my cooler and my Powertank. Thanks for an awesome product.