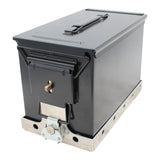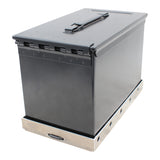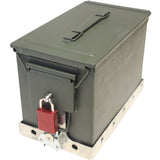 SWAG FAT 50 Cal Ammo Can Mount Only
Have you been looking for a tough, reliable, safe, water proof, airtight, lockable storage at a very competitive price? The SWAG FAT 50 cal PA108 ammo can mounts are just that. Military ammo cans are used extensively in the field to transport a variety of calibers of ammunition to the troops. These cans feature a removable lid with a rubber gasket seal, flat folding handle for carrying, lever-lock lid that is lockable, and they are constructed of heavy gauge steel. These are ideal for storing ammo, tools, or anything you want to keep locked up and secured.

The SWAG ammo can mount is constructed out of 12 gauge 5052 Aluminum which keeps the weight down and does not require painting. Well suited for the off-road, overland expedition, vehicle racing, and or anywhere you need a tough lockable storage box.

The butterfly latch on the front of the aluminum mount allows the user to remove the top lid of the can and still have the can firmly attached to the aluminum base. This is ideal if you are using the box for communications equipment or looking to have full unobstructed access to the contents inside the box for an extended period of time.
Note: The footman loop mounted on the rear of the ammo can is attached using two stainless steel fasteners and nyloc nuts. If you wish to keep the box completely water proof you will need to remove the fasteners and install silicone and/or rubber washers to make a water tight seal.

Kit contents include the following:
(1) 12 gauge, 5021 aluminum mount that is laser cut and formed on a CNC press brake
(1) Black footman loop
(2) Stainless steel fasteners & nyloc nuts to attach the footman loop to your ammo can
(1) 4" long piece of adhesive magnetic tape
(1) Stainless steel locking pin & nyloc nut
(1) Butterfly latch & 3 stainless steel mounting screws

100% proudly made it the USA. The overall outside dimensions when installed in the aluminum base are 12.5" L x 7.25" W x 8.75" H. The usable inside dimensions are 12" L x 6.75" W x 8.5" H.

The ammo cans can be purchased through several online vendors such as Amazon or Ebay, however we prefer Quadratec as they offer high quality cans in both green and black at a great price with free shipping over $50.00. Visit Quadratec's website here.
Well made, Love these mounts.
Have had these mounts for 2 years, 1st class tooling and material. Very happy with them.
Top mount ammo can
Well made design. Works well. I had to make to extra holes for more stability. However it would have to be done after considering back racks vary
Fat 50 can mount
Awesome! Great quality product with an awesome appearance. Looks good and functions well. The cans I bought did need the hole in the handle opened up to accept the lock stud and the can required some shaping so the lock stud did not catch on the can. I did not order from the company SWAG recommended so I cannot speak to that combination. Easy to fix, but an annoyance. But the mounts work well and were simple to mount into the HMMWV for lockable storage.
SWAG FAT 50 Cal Ammo Can Mount
Fantastic piece of kit. Holds the ammo can securely and gives me lockable storage for my CJ5. Easy to remove the can to reduce temptation when the Jeep is parked. Don't need someone slicing the top.
None
First class workmanship, appropriately priced, does what its supposed to do, great customer service. Buy from these folks and do so with confidence.