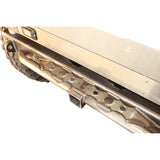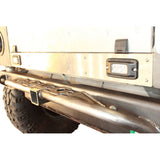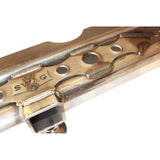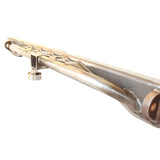 "Big-Hit" TJ-YJ Rear Bumper (V2.0)
With its super low profile fully welded boxed construction, the Big Hit rear bumper features an excellent departure angle and super compact design that will keep you from getting hung up in the rocks, while still retaining a receiver hitch and D-ring mounts for self recovery. The receiver hitch sticks out 3.5" past the edge of the bumper which is the shortest we could get away with, while still being able to accept a receiver mounted hitch for towing or D-ring shack mount. The hitch is mounted high up on the bumper and upward sloping tubes help you slide off of obstacles and keep your forward momentum going through the harshest of terrain.

The Big Hit rear bumper is designed for the serious off-roader in mind, yet civil enough to be compatible with your factory or after market tailgate mounted tire carrier. This bumper is cut out on a laser and formed on a CNC press brake. Constructed out of high strength 1/4" thick steel plate, with 1.5" .120 wall DOM tubing and 1/8" dimple died plates for rock crushing reinforcement. The bumper has 6 dimple died holes that flare upwards for a non slip surface when you need to have access to the top of your Jeep or hang off the bumper as counter ballast.

The Big Hit bumper is shipped un-welded, unpainted and weights in at 38 lbs. Once the bumper has been fully welded it is a 100% bolt on installation and comes with all related fasteners.
Chance,
Thank you for your interest in our products.
Very glad to hear that you are satisfied with your new bumper! I greatly appreciate the positive review and the photos. Bumper looks great painted to match the jeep!
Please don't hesitate to reach out if there is anything we can help you with.
Thank you,
SWAG Off Road
Amazing Craftmanship
Bumper is awesome fit was on point and the welds are so perfect almost hated to powder coat it haha. I had to modify my rear rack basket and a hitch, but I wasn't about to cut up this piece of art. Thanks for the quality work guys.
Forget Arby's...
Swag has the meat! This bumper is simple, purpose built and.. BEEFY! Mounted up well, bolted in solid. D ring shackles are on the way. I only ever plan to mount my bike rack in the hitch, which required that I cut a hole through the back of the bumper and put a hole in the frame. The clearance this bumper affords is impressive. It looks so tough, I almost clear coated it raw. Instead I spent a long time painting, sanding, scuffing, painting, wiping, sanding, rubbing and painting in an effort to make it look like I spent no time on it at all. Mission successful. It looks like it's been part of my rig for a long time! Worth it.
Hello,
Thank you for the kind words regarding your new bumper, I'm very glad to hear that you are satisfied with the end result! That distressed paint job is seriously awesome!!
Don't hesitate to reach out if there is anything we can help you with.
Thank you,
SWAG Off Road
THE BEST OFFROAD REAR BUMPER ON THE MARKET!
Wife ordered the bumper for me as a present because it was the only thing I wanted for my birthday. I called months in advanced to find out the turn around time and at that point I could only order the non welded version. Fast forward to the day my wife ordered it and they just hired a new welder. When she called she couldn't get through but moments later Swag actually called her back! They were super pleasant & easy to deal with & the bumper shipped out quickly! As of today, the bumper has been on my Jeep for months. I got it sandblasted & powder coated black. In terms of offroad utility, it is unmatched! Super strong, super low profile! Yes you have to cut down your ball mount but that's the only catch if you really need to tow something. Seriously....this is the best rear bumper in the market for real offroaders! There's not enough space to type how sweet this thing is! Thank you again SWAG for a great product! It goes nicely with the CJ style tailgate conversion that I've also installed made by SWAG! I absolutely love buying American made products so keep up the great work!!!
Mr.
SWAG shipped my bumper out 1 hour after ordering it. Bumper is a work of art. It fit perfectly, and looks great. Well worth the price.