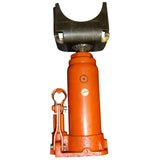 The bottle jack axle cradle is designed to be welded directly to the top of any bottle jack that meets your particular need or application. Constructed out of 5/16" steel so it will hold up to any abuse you throw at it. There are two different diameter cut outs in this bracket. The large cut out at 3.50" in diameter is large enough to fit late model trucks with one ton axles, yet will work for smaller axles commonly found on lighter vehicles. The smaller 1.25" diameter cut is designed to work with steering linkages or suspension links and or can be enlarged up to 2.50" in diameter by the end user to fit your particular need.
The bottle jack axle cradle is shipped unpainted and un-welded. The bottle jack axle cradle can be used with any bottle jack 2 tons up to 20 tons. The only limiting factor is the bottle jack you are using needs to be able to extend far enough to reach the axle you are intending to use this product with.
NOTE: Bottle Jack NOT included. This listing is for the axle cradle only. The cradle MUST be welded to the bottle jack by the end user.
Please note that the Youtube video posted above is out dated and does not accurately reflect the latest version of this product as shown in the pictures. The cutouts in the current design are now 3.5" Diameter and 1.25" Diameter.

Related Products
Regular price

$16.95
Sale price

$16.95
Unit price

per
Free Shipping
Sold out
New
Backordered
Regular price

$14.95
Sale price

$14.95
Unit price

per
Free Shipping
Sold out
New
Backordered
size of hole that fits within the jack shaft to small, any larger one, I have a 20 ton Jack
Hello, I purchased the Swag cradle, not knowing that the hole in the cradle would be smaller than the jack shaft. I have a 20 ton Jack, which maybe a bit overkill, but I load several lbs of off road equipment on and within the truck and wanted the jack for flexibility and size, and the swag cradle was the the solution for stability for placing it under the axle. So id there a cradle that will support the larger jack shafts?
Someone solved the problem!
Like to use the off road jack once in a couple of years, not friendly! This Bottle jack cradle lets you feel comfortable using, and with a few 2"x "6 wood strips to secure the jack in position your in great shape.
Stable platform
Makes for stable lifting platform when using bottle jack, bought two
Good, but does not include jack
Read carefully. Does not include jack that is in photos. Other than that, it does very well.
Immediately put to use
This cradle is STOUT! Took me a few minutes to weld on the bottle jack. Put to use 2 days later as I was headed to Moab with my Jeep on a trailer and blew a trailer tire. Threw the jack with the cradle under the trailer and a few minutes later was back on the road. 10 miles later got to do it all over again. Paid for itself through making it easy to change the tires! Going to get another one to keep in my truck.