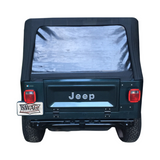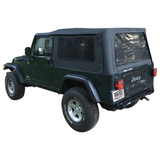 CJ Tailgate Conversion Kit for your TJ or YJ
This kit is designed only for converting a CJ tailgate to work on your TJ/YJ tub, this kit will not work with your factory TJ/YJ tailgate.
This is NOT a complete tailgate
, this kit allows you to mount a factory original or aftermarket CJ Tailgate to your TJ or YJ. The Tailgate must be sourced elsewhere. If you would like links to CJ Tailgate sources, please send us an email at sales@swagoffroad.com and we would be happy to assist you.
Do you love the look of the old school CJ tailgates, if so look no further. This is the only kit out there in the market that replaces your factory TJ/YJ swing out tailgate design into a drop down tailgate when used with a CJ tailgate. This robust drop down tailgate conversion kit is designed to easily hold over 400lbs. This kit is compatible with your factory hard or soft top. Please note that the CJ tailgate kit is best suited for those running a soft top as the CJ tailgates lock from the inside of the Jeep and if you are running a hard top you will be required to open and close the tailgate from the inside of your Wrangler.
The kit installs with minimal shop tools and installation is a snap. Drilling of four holes is required to mount the bottom of the hinge to the Jeep tub and custom fabrication is required to keep the tailgate closed as the factory CJ tailgate latch mechanism does not fit flush against the YJ or TJ bodies to keep the tailgate closed.
Engineered to last with quality hinges and cables, all metal brackets are shipped unpainted and are laser cut and formed on a press brake. Note: the CJ tailgate is not included with this kit.
Your spare tire will need to be attached with an after market swing out tire carrier. This kit is compatible with either a bumper mounted tire carrier or a tub mounted tire carrier.There are dozens of designs and manufactures to pick form depending upon your requirements and the amount you are looking to spend.
NOTE: The Tailgate Conversion kit includes all the parts necessary to mount a CJ Tailgate to your TJ/YJ. The CJ tailgate is not included and it must be sourced elsewhere. The brackets that attach the cables to the tailgate and the locking tabs are not included as they are typically sold with the tailgate. If you are purchasing an after market tailgate like the OMIX, these parts will need to be fabricated or sourced elsewhere.

A drop down tail gate has many ideal uses, here are a few that previous customers have sent to us:
The ultimate off road work bench trail repair station,its always with you
The perfect place to set the Coleman camp cooking stove.
When it rains I can lift up the hard top glass and sit on a dry tailgate.
With two kids In diapers, it is the only flat spot on a Jeep.
What good is a tailgating party with out a tailgate.
Take the rear seat out and I can easily sleep in the back.
It is a great place to sit and watch people after I've broken my Jeep.
A great place to set my tool bag, and have a trail side picnic.
Who needs a drop down tailgate, I love getting hit in the back when parked on a hill with my swing out factory tailgate.
This kit is only for converting a CJ tailgate to work on your TJ/YJ tub.
CJ tailgate on my YJ
Quick and simple, very straightforward. I do have a 2 inch body lift on my jeep so it made the installation even easier. Took about one hour to install. I did have a used CJ tailgate, with all the hardware except the hinges. Now all I have to do is take it all back off sand it and paint it. Very happy.
Cj tailgate kit for YJ tomorrow b
Easy to deal with kit came as explained in a short time
Will buy from Swag again
Cj Yj tailgate
I ordered the tailgate conversion kit, but I need the tailgate too
Good
Good kit but really wish the tailgate cable brackets for the tailgate side were included or at least available for purchase. These brackets are hard to find pieces and had to fabricate my own
Great Kit!
The kit makes for an easy install. Everything you need to install your CJ style tailgate. I really appreciate that all the fasteners are stainless. The backer bracket that goes inside the tub is stout and certainly saves you from making one. It is also nice that the hinges are stainless as well. I purchased the tailgate itself on Amazon. I added latches I bought from eBay so I could open the tailgate from the outside with a hardtop installed. I also installed this with a Genright filler panel which required the hinges on the tailgate to also be spaced out 3/16". I used some aluminum plate and make some spacers. My only "compliant" is the lack of the cable brackets that mount to the tailgate. These have been a little difficult to source. Quadratec does not carry them unless you buy an entire cable mounting kit for $100. I am trying to but from SGT Jeep. But this is really not a kit issue because I'm sure there are tailgates that come with the brackets. Just an FYI so you know to buy from elsewhere and not waiting!