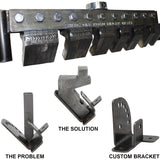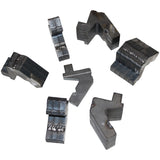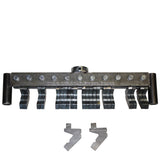 Gooseneck Dies For 12 Ton, 20 Ton & Compact Finger Brakes Only
Are you looking to increase the bending capabilities of your SWAG finger press brake kit?

The SWAG Gooseneck dies are laser cut at 90° to allow for air bending. These punches are used for forming right angle bends, channels, or other special bends where our straight 90° punch would cause interference and limit your bending options.
If you have used your press brake for any "special" projects you have ran into the limitations of the straight segmented fingers. These limitations become apparent when bending shallow pans or forming complex "U" bends. For this reason, we have laser cut 24 individual pieces of 1/2" plate that can be stacked in line or welded together to suite your particular needs. When fully assembled and stacked in line you will have a 12" long goose neck bending top die.

The SWAG finger brake Gooseneck dies are able to bend up to 1/4" thick material.

If you have the HD finger press brake kit you will be able to bend U shaped pieces that have maximum leg "A" that is 2.0" long and a minimum width "B" of 2.0" wide.

If you have the standard finger press brake kit your "A" measurement will be a maximum of 2.0" long and "B" width of 1.0" wide
Please note that these dies are tabbed together and will need to be cut apart at the end user prior to use, refer to picture #4 above.
Related Products
Regular price

from $349.95
Sale price

from $349.95
Unit price

per
Free Shipping
Sold out
New
Backordered
Regular price

from $329.95
Sale price

from $329.95
Unit price

per
Free Shipping
Sold out
New
Backordered
Regular price

from $299.95
Sale price

from $299.95
Unit price

per
Free Shipping
Sold out
New
Backordered
Easily bends up to 90 degrees in tighter spots.
These dies bend to 90 degrees, the original bend up to 60 degrees, and the hemming dies bend at 30 degrees. Some have commented about the task of separating the dies, as they come tabbed together. I just flexed the parts at the tabs, and they came apart easily. I then used a 12 inch bench sander to smooth out where the tabs were. It took me about 30 minutes for both the gooseneck and hemming die sets. Both sets now work as advertised.
No splinters
They work better than wooden ones
Simple, affordable, and effective
These guys are the Best ........
1 ) product GREAT
2 ) people there ,
THE BEST...
3 ) MONEY WELL
SPENT!!!!!!!
I AM PLEASED
This is a nice product. The cutting of the fingers is nicely done. Trimming the tabs is a chore, more so because I got the Hemming Dies at the same time. Love both products. They will allow me to do more complex bending that I plan to do.