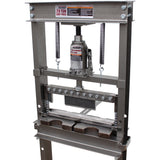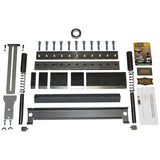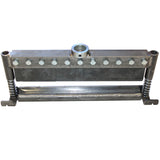 20 TON Finger Brake Press DIY Builder Kit
Press Brake kit comes un-assembled, you do the final assembly and welding.
Designed to fit the Harbor Freight 20 ton hydraulic press Item # 32879 & 60603. Press brake kit includes an adjustable back stop for accurate and repeatable bends. .
The top clamping bar is machined out of 4140 material and includes 5 segmented removable sections. 1", 2", 3", 4" and 9.5" long pieces. These segmented blocks can be removed and rearranged to allow bending of restricted areas on a piece of sheet metal or on an already partially formed pieces.
Max Bending Radius (deg.) 110
Max Bending Capacity 3/8" plate
Max Bending Width 19.25"
Total width of the brake is 22.125" wide
Tools required for assembly: welder, grinder, level, small square.
It Is capable of bending mild steel in the following length and thickness.
19" = Full bending width of the bottom die on anything 1/8" or thinner.
15" in 3/16"
12" in 1/4"
5" in 3/8"
Please provide us a valid shipping address that UPS/FEDEX will deliver to.
NOTE: Shop Press and Bottle Jack are NOT Included
NOTE: The optional centering tabs provided with the finger break do not come attached on the fully welded kit.
The DIY 20 ton press makes a great addition to the arbor press plates we sell HERE.
Related Products
Regular price

from $349.95
Sale price

from $349.95
Unit price

per
Free Shipping
Sold out
New
Backordered
Regular price

$14.95
Sale price

$14.95
Unit price

per
Free Shipping
Sold out
New
Backordered
Regular price

$16.95
Sale price

$16.95
Unit price

per
Free Shipping
Sold out
New
Backordered
Absolutely recommend
Works flawlessly I absolutely recommend
Highly recommend
I love my SWAG 20 TON Finger Brake! I bend a lot of 3/8 plate for brackets ,etc and this does a great job. I added an air over hydraulic jack conversion and the combination of the two makes my work very easy. Great addition to the shop.
My new shop addition
Got here quick. Easy assembly, Nice unit.
Easy to use. Works great. Been bending steel for many
years at home with a hammer and a vice. Do not have to
do that any more.
Almost Perfect
The brake showed up on time and in perfect condition. The directions for putting it together are very helpful, and made the process easy. Form and function were as good as to be expected. The only thing I don't like about it is the stamped word "Swag" on the front clamping face. I'm not sure why someone decided to use the dumbest word in the English language in the name of the company, but every time I look at it I can see the brim of my hat start to flatten feel a sudden and inexplainable need go buy a vape.
Please make it stop. My wife is real sick of being called "bro."
Josh,
Thank you for the kind words regarding our brake. I'm very glad to hear it is working well for you!
In regards to the word 'SWAG,' we have learned over the years that the word has a completely different connotation for the younger generations. Those of us that graduated high school prior to 9/11 associate the word 'SWAG' with one thing, the portmanteau of 'Scientific Wild Ass Guess.' SWAG (or Scientific Wild Ass Guess) was a term that originated in the army during the Vietnam war. In the heat of battle, the military didn't always have all the fact, they didn't know how many enemies they were up against, or what tactics they might employ. Military intelligence would utilize prior experience and estimates to create a SWAG of how to proceed. The term was even used on the witness stand during a high profile trial that followed the war.
When we first started developing our product line, a lot of the ideas came down to, 'This Harbor Freight tool is barely functional. I bet if I added X,Y, and Z it would be a lot more effective.' Essentially, we had to make a SWAG on the best way to create our products because no one else was doing anything similar at the time.
If you'd like to read more on the origin of 'SWAG,' I have linked the Wikipedia page below.
https://en.wikipedia.org/wiki/Scientific_wild-ass_guess
Don't hesitate to reach out if there is anything we can help you with.
Thank you,
SWAG Off Road