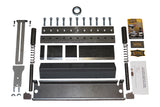 20 TON Compact Heavy Duty Finger Brake Press DIY Builder Kit
This brake is exactly like the 20 ton HD finger brake, just ~2" narrower. A majority of our international customers have hydraulic presses that are 20.5" wide between the inside frame rails, hence this 20.5" wide version.
Please note: The pictures shown above with the Harbor Freight Press are for example only, We do not have an imported 20.5" wide press at this time.
The press Brake kit comes un-assembled, you do the final assembly and welding. Designed to fit any press brake that has in inside width between the frame rails of 20.5" wide or wider. The press brake kit includes an adjustable back stop for accurate and repeatable bends.
The top clamping bar is machined out of 4140 material and includes4 segmented removable sections. 1", 3", 4" and 9.5" long pieces. These segmented blocks can be removed and rearranged to allow bending of restricted areas on a piece of sheet metal or on an already partially formed pieces.
The heavy duty press brake kit has the same quality construction and number of components as the standard press brake kit, however the differences are as follows. The bottom formed channel on the HD press brake kit is cut out of high strength 3/8" thick steel and the bottom "V" die of has a total width of 3.75" wide x 1/4" thick to allow for easier bending of thicker material.
Max Bending Radius (deg.) 110

Max Bending Capacity 5/8" plate

Max Bending Width 17.875"

Total width of the brake is 20.5" wide
Tools required for assembly: welder, grinder, level, small square. The 20 Ton Brake is capable of bending mild steel in the following length and thickness.
17.875" = Full bending width of the bottom die on anything 3/16" or thinner.

15" in 1/4"

13" in 5/16"

11" in 3/8"

6" in 1/2"

3" in 5/8"
Please provide us a valid shipping address that UPS/FEDEX will deliver to.
NOTE: Shop Press and Bottle Jack are NOT Included
The Compact HD finger press brake makes a great addition to the arbor press plates we sell

HERE

, as well as the Flat Top assembly shown HERE.
Related Products
Regular price

from $349.95
Sale price

from $349.95
Unit price

per
Free Shipping
Sold out
New
Backordered
Regular price

$14.95
Sale price

$14.95
Unit price

per
Free Shipping
Sold out
New
Backordered
Regular price

$16.95
Sale price

$16.95
Unit price

per
Free Shipping
Sold out
New
Backordered
As a shop owner I was skeptical I was wrong
This is one of those things I purchased holding my breath I'm so glad I did were
Using it every day now it repeats bends acutely we haven't max bent with it yet does 1/4"&5/16" no problem
I only have one regret I didn't buy the big wide one
Happy customer
Have assembled my finger brake, went fine except for 1 screw up, on me. Somehow got the guide tubes misaligned enough that the top assembly wanted to hang up when press was complete, didn't want to return up. Fixed that by drilling out tubes with a 1"" drill. Works fine now. Like I said that was on me, not Swag. The guide collar for the ram piston is too small for my press, Swag doesn't offer any other size, so will come up with something else. All an all very happy with it. Would recommend it, just be more careful with the assembly than I was.
Press brake is pretty straight forward but came with 1 wing nut (missing rest of hardware) and missing one of the weld on ears. Box was tapped up like crazy so it didn't fall out in shipping. Not too happy after paying this much plus ridiculous shipping to Canada.
Just as I expected
Went together great but have not tried it out yet as I'm not supposed to lift anything heavy yet due to recent surgery I believe it will work just fine