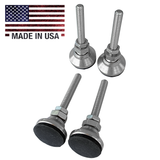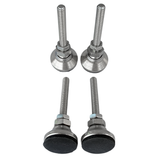 Maybe you're tired of your tools sliding across your steel workbench or maybe you just need a bit more space underneath. Our adjustable feet use a 2" x 5/16" stud and will fit with a wide variety of tools and machines including our Portaband Table, Hulk Tubing Roller, and our new Chamfer Table. The high durometer rubber bases are durable and will allow these feet to hold huge loads. We've been looking to add some leveling feet to our product line for quite some time but were continually disappointed with the quality of the foreign produced models that can be purchased elsewhere. These feet are extremely high quality and 100% made in America. We include 2 nuts per foot so they are ready to bolt onto your tool out of the box. One order comes with a quantity of 4 individual leveling feet.
Worth the extra bucks
So I bought the chamfer table ...and though narr don't need $40 feet for it ..but let me tell you I wish I had bought them when I bought my table ...the table would keep moving around my work bench..had to use clamps to hold it down..PITA ..Decided enough is enough .. bought the set of leveling feet and Damn ..my table doesn't move stays put on the table ..made the table go from great to awesome....do yourself a favor don't try to be cheap when buying a chamfer table ..just throw another 40 bucks at it and enjoy your table not trying to take off on you ..guys you rock as always ..thanks so much
They work perfectly. Don't even shop them rubber vase swivel pad.
Adjustable Leveling Feet
they work...nothing to write more about.
Great feet!
These feet are not the cheap ones you can pick up at you big box stores. These are solid and well made. These will last a lifetime.
Work Great
I got these for my table thinking they were really expensive but I needed something for my table. They are worth every penny and then some they go on easy. They level out on the table and grip really good. Maybe you can find something cheaper but these just are so much better.