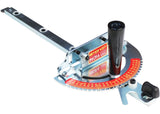 We save you the hassle and run around of trying to find a miter gauge assembly that is compatible with your SWAG Portaband table. The INCRA V27 miter gauge is design & manufactured in the USA, and build to last as long as our tables. The V27 features four adjustable expansion joints to eliminate any side play and provides super smooth drag free motion along the miter track. The V27 also features their AngleLOCK indexing for quick tool free angle adjustment.
Keep it square
Real nice unit works smooth and easy great for my portaband and drill press great addition thank again SWAG
Great product
Totally happy with everything about this purchase. Accuracy, price, and quality
Dead on accuracy
I needed an accurate miter gauge that I could interchange between my band saw, router table and table saw. The issue is that while my band saw and router table have a T-slot, the table saw does not. The Incra miter gauge has an easily removable T attachment that solved this issue. I use set up blocks for accuracy in making segmented rings, so I didn't need the more expensive Incra miter gauge with more degree settings but the locking angle settings are dead on accurate. Great product.
Fast shipper
Great product fits all my tools and is adjustable
Accurate.
Adjustable to fit any miter slot. Great customer service and fast delivery