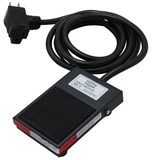 120V Foot Switch
Imagine how easy your job is going to be using the foot pedal to start and stop your SWAG Portaband table. Plug your Portaband power cord into the outlet on the foot pedal. Plug the foot pedal cord into a 110 volt outlet. Press the pedal to start the saw, then remove your foot to turn the saw off.
Foot pedal
Awesome product. Between this and your stand they take my bandsaw to another level.
Pedal
Foot pedal is awesome, don't have worry about turning it on or off.
The guys from SWAG helped me out.
Good price works great
Only used a few times so far but …. Glad I bought it. Well worth it. 👍🏼🇺🇸
Worth the money
I debated buying this, since I'm naturally cheap, but decided I didn't want to have to plug and unplug the saw all the time, or reach past the blade to lock down the trigger. It's a simple on/off switch, which keeps the cost down from a variable speed unit, but my Milwaukee portable band saw has a speed control separate from the trigger, so variable speed isn't necessary. There is plenty of cord for my application, where my saw table is close to an outlet. I do need to find a better location for the pedal, though, since I turned the saw on a few times inadvertently, as I shifted my stance to brush filings from the saw table. And it shuts off immediately when you release the pedal, as opposed to taking a hand away from the workpiece to shut off a switch mounted to the saw or table.