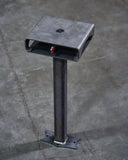 The DIY Pedestal Kit allows you to turn your SWAG Chamfer Table into a permanent fixture in your workshop, freeing up space on your workbench. The kit includes a 3/8" steel base plate shaped like the SWAG Shield and a 1/4" table mounting plate with pre-cut holes specifically for your Chamfer Table. In order to complete your pedestal, cut a piece of tube to your desired length (36" is recommended) and weld it to both plates. The kit is designed to work with 3" x 3" square tube, but round tube and smaller sizes will work as well.

Shield Base Plate: 10.75" x 6"
Table Mounting Plate: 13" x 11.5"