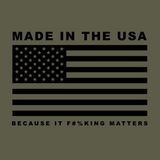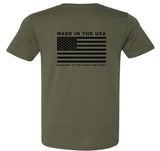 Made In The USA (Because It F#%king Matters!)
At SWAG, we have three rules that we always try our best to follow; provide a quality product at a reasonable price, always stand behind the products we sell, and make as much as we can right here in USA. We strongly believe that American manufacturing is the backbone of this country and restoring domestic industry is the best way forward as a nation. Since the beginning, we have always been proud to say "Made in the USA" and we have no intentions of changing. Making our stuff here in the states F#%king matters to us, and we know it matters to you as well! The back of this shirt proudly states our stance. Printed on a high quality (American Made) 100% cotton shirt.

Great company to purchase from
Ordered a shirt with some holes in it. Left a review and swag called me within the hour to make things right. I'll absolutely continue to do business with them. Great people! Also I don't know how to update or get rid of old review
MADE IN THE USA
With imported fabric. ??????????
Our priorities do not end with selling American Made products, we also firmly believe it is important to support local small businesses as well. Bend is a small town, finding a local company that sells any American made shirts at all was a difficult task. The last two years have been particularly tough for small business in our local area which is why we will continue to support them.
love this shirt
great saying but also well built shirt
It does matter
I lost a job to imports,so it does f#%king
Hope you get bumper stickers and hoodies