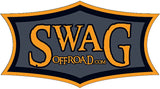 We include a sticker or two in every item that leaves our shop, however if you're looking for more we offer them to you for the the cost of the sticker + postage. We really do appreciate you supporting us and we love to see our decals on your builds and in your shops!
The high quality decal measures 2.0" X 4.0", making it perfect for placement on your Jeep, toolbox, or anyplace where you're looking to add a bit of SWAG. Die-Cut from quality automotive exterior vinyl.
Nice
Added this to my customized press with SWAG finger Break and jack knobs, just wish they offered a larger sticker.
Swag decals
Very pleased with the product. Very nicely made and great contrast.
Awesome Sticker
Perfect. Great adhesion. Arrived quickly.