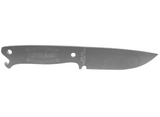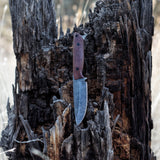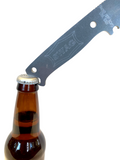 SWAG 1095 Bottle Opener/Knife Blank
Whether you want to create a knife or pop a bottle top, the SWAG Knife Blank has you covered. Cut out of 1095 High Carbon Forging Steel, this blank can be used to make a useful knife that will actually hold an edge. If you don't have a belt grinder, its also a handy (and heavy) bottle opener and a great conversation piece. "Blade" length = 4.0", Overall length = 8.625".

Knife /bottle opener.
Havent been able to start on it yet. Only complaint would be the jimping on the spine. Should be a an option, im doing it for my son and im going to do some scroll work on spine. So i will have to grind the jimping away and re=profile it. But its just a small complaint, Ill post some pictures when im done.
Knife blank slate
This is a great design, can't wait to finish it ahead of camping season this fall
Hello,
Very glad to hear that you are satisfied with your Knife Blank! If you would like to share photos of the final result, we would absolutely love to see what you come up with.
Please don't hesitate to reach out if you have any questions or concerns.
Thank you,
SWAG Off Road
looking for a project
cant wait to finish off this knife blank. been looking for a project to advance my metalworking skills. cool idea. will make a great x-mas gift
Do I like it? I don't know. It never came in
Been waiting and contacting customer support. They do respond to emails. I wanted to have this knife finished as a Christmas gift. It is lost in the mail. Customer support tells me to be patient and I will be. I just received an email asking for a product review of this knife blank. This is the best I can do because I don't have it. There automated email system thinks I should have it also lol. I ordered the swag band saw table and it came real fast. I know this isn't Swags fault. But it's a $20 blank(for me) that they have about 3 bucks in. This is my first purchase ever from them. I ordered the band saw table shortly after the knife order. If I had waited to order the table until after the knife came in, I doubt I ever would have the table. There policy is to wait 30 days before they will address this and that stinks for me. I am ordering another knife blank somewhere else.