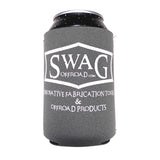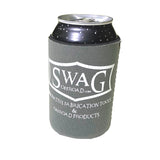 Tired of spilling your beverage? SWAG supports responsible thirst management and beverage safety!
Our neoprene coozies feature the SWAG logo and will maintain the chill of your beverage, while the super-strong magnets will keep a full 12 or 16 ounce can firmly attached to any metal surface. No more spilling your beer.
Our favorite use is putting the SWAG coozie on the side of the vehicle while wrenching in the garage, or sticking it to the side of your camp chair or awning when out exploring mother nature. The magnetic coozie is ideal for keeping frosty beverages close to you at all times while keeping it off the ground.
Proudly display the SWAG logo as a badge of honor, ingenuity, hard work, creativity and most of all quality American made products.
Perfect wheeling coozie
I own 5 of these coozies. They are perfect for wheeling around the mountains or just driving around town. I stick mine to the outside of my drivers door. A 16 oz rockstar stays put on the side of my samurai while bouncing down the trails and they the mud. There isnt a better coozie on the market, that I know of, that performs better off road.
A coozy with magnets
This new 'tool' is right up there with running water and sharp knives. How did i live without a few of these? everyone that sees them wants one. Hint: Store in icechest when not using. :) keeps beer cooler on 110* days.
Detroit Hiker
This thing actually holds a full beer and doesn't slide down the side of your vehicle! Awesome magnets!
Just a dude
Ok, I really didn't pay attention that this was magnetic. I just thought I was ordering a beer cooler thingy. Never had one that was magnetic and that purple smoke shot out of my head!" It sticks to metal walls. " Poof! like to the outside of the frig. A full 16oz with no slipping down. It sticks to my truck, the quad trailer my motorhome ... well at least the bumper and hot water heater door. I love this. And my buddies like to hide it too, like the rafter braces in the garage way up high.