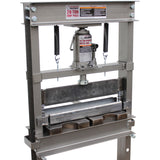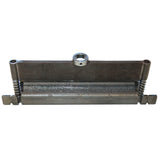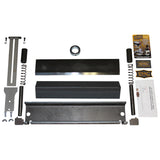 Heavy Duty 20 TON Press Brake DIY Builder Kit
Press Brake kit comes unassembled, you do the final assembly and welding.
Designed to fit the Harbor Freight 20 ton hydraulic press Item # 32879 & 60603. Shop Press is not included. Press brake kit includes an adjustable back stop for accurate and repeatable bends.
The heavy duty press brake kit has the same quality construction and number of components as the standard press brake kit, however the differences are as follows. The bottom formed channel on the HD press brake kit is cut out of high strength 3/8" thick steel and the bottom "V" die of has a total width of 3.75" wide x 1/4" thick to allow for easier bending of thicker material.
Max Bending Radius (deg.) 110
Max Bending Capacity 5/8" plate
Max Bending Width 19.25"
Total width of the brake is 22.125" wide
Tools required for assembly, welder, grinder, level, small square.
It is capable of bending mild steel in the following length and thickness.
19" = Full bending width of the bottom die on anything 3/16" or thinner.
15" in 1/4"
13" in 5/16"
11" in 3/8"
6" in 1/2"
3" in 5/8"
Please provide us a valid shipping address that UPS/FEDEX will deliver to.
NOTE: Shop Press and Bottle Jack are NOT Included.

The HD DIY 20 ton press makes a great addition to the arbor press plates we sell HERE.
Related Products
Regular price

from $349.95
Sale price

from $349.95
Unit price

per
Free Shipping
Sold out
New
Backordered
Regular price

$14.95
Sale price

$14.95
Unit price

per
Free Shipping
Sold out
New
Backordered
Regular price

$16.95
Sale price

$16.95
Unit price

per
Free Shipping
Sold out
New
Backordered
Great Product, Fast Shipping
Great product, great price, fast shipping. Order came in 2 seperate packages. The instructions worked well, and the Press brake is impressive!! Thanks Swag!!
i order this kit and i decided to pay 150 to get it welded because i don't have time to do it, so the kit came today and I noticed that it was only part of the kit, so I pay 150 just to weld one little piece of a 1/4 inch angle in to the 3/8 steel chanel, I make a big big mistake and I still need to order the rest of this kit. you guys need to know what are you ordering and what are you paying for, definitely, I don't recommend to pay to get this kit welded,do it yourself
Jorge,
Thank you for your order.
I do apologize for the confusion, we ship our brakes in two separate boxes to keep the shipping weight down and it looks like only one of the two boxes has been delivered so far. Though we always ship both halves of the brake at the same time, for whatever reason, it is quite common for FedEx to deliver one box a day or two before the other. It appears that you have only received the bottom assembly and your Brake's top assembly is still in transit. I just pulled up your tracking info and it appears the rest of your order is out for delivery as of this afternoon. You will have the rest of your brake by this evening. You can track the package by clicking on the primary tracking number that we emailed over with the original shipping notification, scrolling down on the FedEx webpage a bit, and there will be a second tracking number that is labelled 'In Transit.' Clicking that tracking number will show you the status of your other package.
I do apologize for any inconvenience this delay may have caused you.
Don't hesitate to reach out to us directly if you have any other questions.
Thank you,
SWAG Off Road
20 ton press break DYI
Very well made, super heavy duty and easy to assemble and weld up..
20 ton heavy duty brake
Works perfect. Just take your time assembling
Owner
Just recently purchased this heavy duty 20 ton finger brake for my fab shop. Would recommend it to anyone needing to make an addition to their shop. Fast delivery, good instructions on assembly, and reasonable price. Does just as advertised.