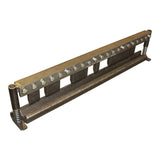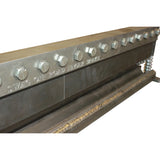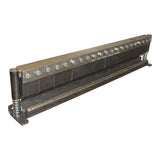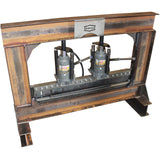 40" Finger Press Brake DIY Builder Kit, With Adjustable Back Stop
Press brake kit comes un-assembled, you do the final assembly and welding.
You asked for it ... & here it is.
Constructed out of high strength 3/8" steel with a 1.0" x 4.0" thick top die and 3.0" wide bottom die. The kit is shipped with fingers in the following sizes, 1", 2", 3", 4", 9.5" & 17" long.
This 40" press brake kit will bend steel up to 37.5" wide and is designed to fit in hydraulic presses that are at least 40" wide between the vertical beams, however it kit can easily be cut down or modified to accommodate smaller presses.
Note: The max bending width and thicknesses are determined upon your hydraulic press and thus actual numbers are dependent upon your press. But with ample tonnage and proper support, this brake will bend up to 1/4" of A-36 steel full width. We recommend 40 tons; (2) 20 ton jacks spaced evenly works great.
Tools required for assembly: Welder, grinder, level, small square.
If you are looking for a press that is compatible with our 40" press brakes consider the following two options: Harbor Freight 50 Ton Press and the Grizzly 50 Ton Press. They are an easy out of the box solution. The frames of these two units are not wide enough to utilize the full capacities of the 40" brakes, however the vertical beams of the brakes are open, this allows the 40" brake to stick through both sides of the frame. The maximum usable width between the frame rails is 32.25" wide for both the Harbor Freight and the Grizzly H frame presses.
Note: Some minor modifications may be necessary or items may need to be relocated, such as the manual pump or the hand crank winch if using the 40" wide brake on these H frame presses.
If you are looking to make your own dedicated frame for the SWAG 40" brakes check out the link below for a fully detailed list of materials needed to create your own I beam press brake stand, which is less work than you may think and is fairly inexpensive, considering what it allows you to create.
Related Products
Regular price

$1,499.95
Sale price

$1,499.95
Unit price

per
Free Shipping
Sold out
New
Backordered
Only 5 Left!
Regular price

$16.95
Sale price

$16.95
Unit price

per
Free Shipping
Sold out
New
Backordered
Regular price

$14.95
Sale price

$14.95
Unit price

per
Free Shipping
Sold out
New
Backordered
Frame sizing tips
Firstly, I think SWAG makes good dies at a great value, so five stars there. Its important to have some idea of structural steel sizing before you throw down the time and cash to build a frame for these. Some builders are using 6" I beams and from the photos you can even tell they have already bent the top beam. No surprises there, a 6" I beam spanning 36" will yield trying to do a 24" bend in 1/8" Aluminum! If you don't believe me check my math (spreadsheet calcs attached). Of course it all depends on what you want to bend but if you wanted to build it to take the full 40T of two cylinders without yielding, the beams (for standard I's) need to be about 12" bottom, 15" top, and a 6" beam between the top die and cylinders!
Operations Manager
Assembly arrived on time and in good condition. Each enough for my fifteen year to assemble. It works great and would buy again.
Finger brake
Rcvd the items really fast. Just welded it up, everything functions fine. If you're a fabricator, this is what you need. Highly recommend... Now, I hate typing so back to building. But had to give an awesome review.
Chief Engineer
Great finger brake. We use this on a 20 ton HF modified press. They are perfect for our shop and the various projects we build here in the building. Great job guys!
GM
Great Brake, I called Swag Off road with some questions and Troy Was great and very helpful. I would highly recommend this Brake and any of there products. I also have the Band saw stand, another great product...did i mention super fast shipping? It's nice to be able to buy quality products, Made in the USA with excellent customer service.