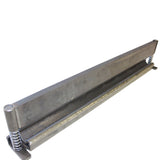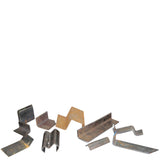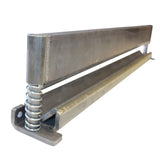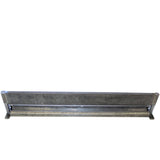 40" Press Brake DIY Builder Kit, With Adjustable Back Stop
Press brake kit comes unassembled, you do the final assembly and welding.
You asked for it... & here it is.
Constructed out of high strength 3/8" steel with a 1.0" x 4.0" thick top die and 3.0" wide bottom die.
This 40" press brake kit will bend steel up to 37.5" wide and is designed to fit in hydraulic presses that are at least 40" wide between the vertical beams, however it kit can easily be cut down or modified to accommodate smaller presses.
Note: the max bending width and thicknesses are determined upon your hydraulic press and thus actual numbers are dependent upon your press. But with ample tonnage and proper support, this brake will bend up to 1/4" of A-36 steel full width. We recommend 40 tons; (2) 20 ton jacks spaced evenly works great.
Tools required for assembly: welder, grinder, level, small square.
If you are looking for a press that is compatible with our 40" press brakes, consider the Harbor Freight 50 Ton Press or the Grizzly 50 Ton Press. They are an easy out of the box solution. The frames of these two units are not wide enough to utilize the full capacities of the 40" brakes, however the vertical beams of the brakes are open, this allows the 40" brake to stick through both sides of the frame. The maximum usable width between the frame rails is 32.25" wide for both the Harbor Freight and the Grizzly H frame presses.
Note: Some minor modifications may be necessary or items may need to be relocated, such as the manual pump or the hand crank winch if using the 40" wide brake on these H frame presses.
If you're looking to make your own dedicated frame for the SWAG 40" brakes check out the link below for a fully detailed list of materials needed to create your own I beam press brake stand...which is less work than your probably thinking & fairly inexpensive, considering what it allows you to create.
Related Products
Regular price

$799.95
Sale price

$799.95
Unit price

per
Free Shipping
Sold out
New
Backordered
Only 6 Left!
Regular price

$14.95
Sale price

$14.95
Unit price

per
Free Shipping
Sold out
New
Backordered
Regular price

$16.95
Sale price

$16.95
Unit price

per
Free Shipping
Sold out
New
Backordered
Mr.
Great Customer Service: they actually answer the phone...and if they are busy...they are prompt to return the call. I received my item within 2 business days :) The assemble instructions were easy to follow and 20 Ton Heavy Duty Finger was assembled in couple hours. I am a novice welder, but found this to be easy project. I am happy with the quality of the product and plan to purchase accessories from SWAG in the future.
Pretty Decent Press Brake
I modified this 40 SWAG brake to fit the Grizzly 50ton press. I cut the working length down to 27 by cutting the base 3 from one end, and rewelding it, then using the base angle iron to strengthen it. The Grizzly had to be modified by moving the bed cables outward by using eye bolts to move the mounting points into the side support area in order to get full working width. This worked well. Still need a 2 id ring as the Grizzly ram is bigger than the 1.625 ring supplied. The brake works well. I did put 1.5 angle inside the base angle to get a tighter bend radius, and will be getting a 1.25 angle as i need a tighter angle for some upcoming fabrications. Have been using it to bend 14-16 ga stock, but the finished assembly is solid enough that it should easily handle 1/4 stock with the 50t press.
Nice design
I bought this 40" kit but had to cut it down to fit my 50-ton press which does not have open verticals. Pretty straightforward mods to make it perfectly fit my press. Have not pushed it by bending the full width yet and still trying to get the minimum bend radius for a given material thickness by stacking up angles in the fixed die. I had to make my own cup to fit the ram since the one supplied was too small. A short piece of pipe fit perfectly.
Awesome brake!
Thanks Troy for putting together this nice and affordable kit! Assembly of the brake was a breeze along with building a frame for it. I tested it today with a 36" wide piece if 3/16" and it bent to a perfect 90 all the way across.
Owner/Operator/Staff (Me, myself and I)
I cut to size (35" total with 32.25 total bending area) and mounted in a Sunex 50 Ton press. I added a 2"x2" tool steel bar to the top of the press and welded a 2" ID DOM piece to the top for the ram. I then welded the bottom forming piece to a 5/8" x 12" x 35" piece for extra support. This had to be one of the easiest kit to adapt to a device I've ever done. I use 4 - 1.5" x 3" tool steel bars to support the tool on the press. First job was to bend 3/8" x 8" plate for pads to some Detroit (people) piers a company is putting up in the river. By using a degree level, you can get a perfect bend every time. I want to get the finger version for a 100 Ton press for doing heavy duty boxes and shelving. I highly recommend this to anyone needing to bend heavier steel. Its a very valuable tool for any shop. Plus it can be easily removed for other press work.