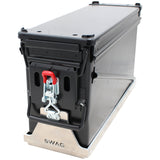 SWAG 40mm Ammo Can Mount Only
Have you been looking for a tough, reliable, safe, water proof, airtight, lockable storage at a very competitive price? The SWAG 40mm ammo can mounts are just that. Mil-B-3060E Military ammo cans are used extensively in the field to transport a variety of calibers of ammunition to the troops. These cans feature a removable lid with a rubber gasket seal, and folding handles on each side for carrying, lever-lock lid that is lockable, and they are constructed of heavy 18 gauge steel. These are ideal for storing ammo, tools, or anything you want to keep locked up and secured.
The SWAG 40mm ammo can mount is constructed out of 3/16" 5052 Aluminum which will handle the abuse, helps keeps the weight down and does not require painting. Well suited for the off-road, overland expedition, vehicle racing, and or anywhere you need a tough lockable storage box. The locking clasp is designed for any 3/16" diameter shackle. The 40 cal can will require two locks, one on the front that attaches to the handle included with the mount and one on the back side that will go through the hasp on the can. We recommend the 630D or 647D Master Locks.
Note: The footman loop mounted on the rear of the ammo can is attached using two stainless steel fasteners and nyloc nuts. If you wish to keep the box completely water proof you will need to remove the fasteners and install silicone and or rubber washers to make a water tight seal. The kit does require drilling and some basic assembly.
Kit contents include the following:
(1) 3/16", 5021 aluminum mount that is laser cut and formed on a CNC press brake
(1) Adjustable toggle clamp
(1) Black footman loop
(2) Stainless steel fasteners & nyloc nuts to attach the footman loop to your ammo can
(4) Fasteners & nyloc nuts to attach the toggle clamp the aluminum base
(2) 5/16" Stainless steel fasteners & nyloc nuts to attach the aluminum base to your platform.
100% proudly made it the USA. The overall outside dimensions when installed in the aluminum base are 20.0" L X 6.25" W x 10.5" H. The usable inside dimensions are 17.25" L X 5.5" W x 10.0" H.
The ammo cans can be purchased through several online vendors such as Amazon or Ebay, however we prefer Quadratec as they offer high quality cans in both green and black at a great price with free shipping over $50.00. Visit Quadratec's website here.
40mm Ammo Can Mount
First, let me agree with some Walter Harrell's review, SWAG should offer the ammo cans (optional) with their mounts. I found not all ammo cans are "exactly" the same dimensions. That being said, on Nov 23, 2022, I purchased two 40mm mounts. They arrived professionally wrapped and boxed. The mounts are very well made and strong. Their fit tolerances are very close, so my cans fit tight (they will loosen up over time). I found the instructions clear and concise. My only concern is the included latching mechanism. The latch needs to be wider at the top so you can drill through the existing cans metal latching mechanism. It would be helpful if the holes on the bottom latch were elongated to allow for a very slight side to side adjustment.
I worked through my minor issues, including mounting them over a DuraLiner. I have a Toyota Tundra and they look like they came with the truck. I am very happy with the outcome.
They don't provide you with the correct can
So, now I have 5 cans and NONE of them are the correct can. I bought them at quadratrac, the place they suggested, but the type and style varies. It varies enough that my first two don't work at all, and now my second set of three, don't work correctly because of differences in the front. They need to sell the can WITH the item as a set, or at the very list, provide a link that insures you get the correct can. It gets really expensive when you keep adding cans that DON'T work.... I'm cutting and adjusting the last three as I think I can make them work, but I shouldn't have too.... It's simple, provide a LINK or sell the can yourself....
Great product
Very nice, heavy duty. Actually better than I expected, rare nowadays.
Very Nice
Really like this bracket . The Quadra tech ammo box fits snug as it should. I have not mounted yet due to the fact i would like to purchase one more. My only wish is you guys made a bracket for a Jerry can to match.