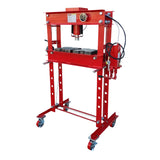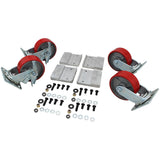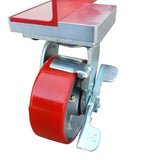 50 Ton H Frame Press Rolling Caster Kit
Harbor Freight 50 TON Press Not Included!!

Do you own the Harbor Freight 50 Ton Industrial Hydraulic Shop Press item # 96188? There is a tremendous value with this 50 ton press as it can be purchased for $1499.99. The press weighs in at 645lbs and comes delivered to your doorstep via freight shipping. This is an item that your local store does not carry, internet order only.
We recently purchased this press and the first thing we noticed is the build quality of this item far surpasses the 20 ton press that we and most of our customers already have. It is powered either by a dual speed manual pump or can be hooked up to your compressor with its built in air/hydraulic cylinder. A liquid filled pressure gauge will tell you the pressure applied by the 50 ton ram.
The size of this press as it stands is ~67" tall by 51" wide when you account for both the hand operated crank assembly which raises and lowers the bed, and the hydraulic pump that both hang off opposing the sides of the frame. With the sheer size of this unit, we ran into it being constantly in the way in our shop. Weighing in at 645 lbs, moving it was no easy task, hence the caster kit.
The caster kit is constructed out of 3/4" 6061 aluminum, so it will hold up to any abuse you throw at it. This kit contains all the needed parts and hardware to have a mobile 50 ton hydraulic shop press and is designed to be a 100% fully bolt on assembly.
The 5" caster wheels are constructed with a cast iron core and durable red polyurethane wheels. Each wheel has a rated capacity of 800 lbs/ea. The two front wheels facing the operator can be put in the lock position and unlocked position using your foot. All four wheels swivel and have a tread width of 2". The total height of the 50 Ton Press with the Rolling Caster Kit installed is 74". The caster kit adds 7" to the total height of the 50 ton press.
The 2-speed pump on this hydraulic shop press operates the ram at a slow or fast speed to accommodate a wide variety of pressing applications. This 50 ton hydraulic shop press features a fast-pump core that allows the pressure head assembly to lower and make contact with the work piece more quickly than the slow-pump core. The hand operated winch for raising and lowering the bed made to be a simple design.
For more information and where to purchase the 50 ton shop press (#96188) please click
HERE.