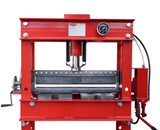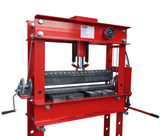 30" Finger Brake DIY Builder Kit, With Adjustable Back Stop
Press brake kit comes un-assembled, you do the final assembly and welding.
You asked for it ... & here it is.
Constructed out of high strength 3/8" steel with a 1.0" x 4.0" thick top die and 3.0" wide bottom die. The kit is shipped with fingers in the following sizes, 1", 2", 3", 4", 8" & 12" long. The top clamping bar is machined out of a solid bar of 2" x 2" 4140 Chromoly steel.
This 30" finger brake kit will bend steel and aluminum up to 30" wide and is designed to fit in hydraulic presses that are at least 33" wide between the vertical beams, however it can easily be cut down or modified to accommodate smaller presses. It fits perfectly in a Harbor Freight 50 Ton press. It will also work with the Sunex 50 Ton, Grizzly 50 Ton and the Dake 25 Ton. The internal diameter of the supplied shaft collar is 2.5", if your press has a smaller diameter ram head, alternative sizes can be found on Amazon.
PLEASE NOTE: You may need to loosen the winch cables in order to place your finger brake into your press depending on which model press you will be using.
The max bending width and thicknesses are determined upon your hydraulic press and thus actual numbers are dependent upon your press. But with ample tonnage and proper support, this brake will bend up to 1/8" of A-36 steel full width and much thicker material in smaller widths.
NOTE: The Harbor Freight 50 Ton Shop Press shown in the product photos is not included.
This item ships in two packages due to the high overall weight.
NOT INTENDED FOR USE WITH ROUND MATERIAL. IT WILL DAMAGE YOUR DIES.
Tools required for assembly: Welder, grinder, level, small square.
Works Great
Easy to put together and works great. I highly recommend.
Very Satisfied
Finally had the time to assemble the press. Everything went together as the instructions said. The only change is that I need to make different positioning tabs because I am using 40 ton Princess Auto press ( Canada's version of Harbour Freight). It has a slightly different configuration. So far I am very pleased.
Quality
Awesome design, easy to build. Had to cut mine down to fit the press I have but still works great!
Hello,
Very glad to hear that you are satisfied with the press. Your cut down job looks great!
Don't hesitate to reach out if there is anything we can help you with.
Thank you,
SWAG Off Road
Excellent Bender
Heavy duty parts! If you take your time to properly set the guide posts you'll have a super functional bender. This bender is easily up to the task of bending anything that the 30 ton ram can bend. The strength of this bender and the very nice fit and finish of the components make this a great buy.