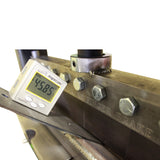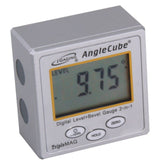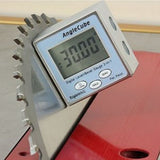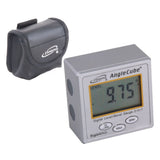 SWAG Digital Angle & Level Gauge
Take the guesswork out of bending sheet metal on your SWAG press brake kits.
Just set the unit on a flat reference surface, press the ZERO button to calibrate the display, then attach it to the metal you are forming and precisely bend sheet metal to the desired angle.
The Angle Cube offers 0.2 degree accuracy with a resolution of 0.05 degrees at a range of 90 degrees. The large LCD screen makes it easy to read while strong magnets hold the unit to any steel or cast iron surface. Spare battery included, measures 2 3/8 Inch x 2 3/8 Inch x 1 3/8 Inch.
There are many different uses for a digital level. It is ideal for setting up those critical bevel cuts on your table saw, jointer, bandsaw, drill press table, etc. The digital level also works well when used with a plane of bend bracket. Plane of bend brackets are used to record measurements when rotating tube in a tube bender in the Y direction for a compound bend. In addition, it also allows you to rotate tube a set number of degrees and bend again accurately.
SWAG Plane Of Bend Bracket (Optional)
If you're tired of guessing the angle of rotation on complex bends and cringe at the thought of how much material you have "wasted," we have a cost effective solution for you.
The SWAG Plane of Bend Bracket is ideal anytime your work requires an accurate rotation of the previous bend completed, prior to performing the next bend operation. With the tube bending computer software that is out in the market place today, knowing where the plane of bend is in your tubing will save you time, materials and money.
The top portion is CNC machined out of 6061 Aluminum and is easily secured to your material using the adjustable lockable pliers that feature large V-pads that provide a superior clamping surface to any other PoB bracket out in the market. The SWAG Plane of Bend bracket will fit tubing ranging from 7/8" OD material up to 2.5" OD. Through product evolution and customer feedback, we now machine dual grooves on the bottom of the Aluminum Digital Readout (DRO) bracket. This latest feature allows the DRO to be turned 90 degrees on the clamp; allowing clear visibility for complex bends when the original orientation wouldn't be visible without moving away from the operating position.
The iGaging digital indicator accurately detects where the plane of bend is and provides you a read out of 360° rotation in 180° increments. Just set the unit on a flat reference surface, press the ZERO button to calibrate the display then clamp it to your tubing.
Good angle indicator
Haven't used the angle gauge much yet. Seems to just fine. Saw 1 at a local store around the same price. Should work Ok.
Digital angle finder
Works great and use it way more than I thought I would. I use it on all my welding projects, when using my finger break, even use it to set the angle on my table saw. Great tool like it a lot.
Welder, Carpenter
I havent had the chance to use the angle finder yet, but if its the quality of all swags other tools and accessories it will work better than advertised !!!!!!!!!!!!! If you could, i would appreciate a couple of decals to display in my shop ?? thanks for making quality products !!!!!!!!!!!!!! Jeff Hevner
Buyer
Great product great service