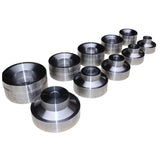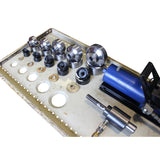 SWAG Off Road "Pipe" Dimple Die Set (5) Pieces
Pipe is designed for fluid transfer through pipes and is measured on the inside diameter, which is why pipe dimple dies have an odd sized outside diameter.


1.115" OD For 3/4" Pipe
1.362" OD For 1.0" Pipe
1.6875" OD For 1.25" Pipe
1.9375" OD For 1.50" Pipe
2.375" OD For 2.00" Pipe

Whether it be for cosmetic applications or looking to improve the rigidity of plate steel, the SWAG dimple dies are capable of dimpling 3/16" steel.

Made in the USA out of domestic steel these dimple dies come with a life time warranty, you split them in half and we will replace them free of charge. It's that simple. These dimple dies are CNC machined out of 4140 quenched and tempered chromoly steel that has a tensile strength of 150,000 KSI. Each dimple die has a through hole drilled into both the male and female dies so they can be used in a few different ways.

The beauty of the pipe dimple dies is that you can use the knock out punch dies that come in the kit offered from Harbor Freight PN #96718. You simply need to drill a 3/4" hole then use the knock out punch set. A hole is cut by compressing the male and female punch dies through thin gauge material. This method saves you the time and increases efficiency by eliminating the hassle of using a hand held drill with a hole saw. Keep in mind that you are limited to 11 gauge mild steel and 16 gauge stainless steel when using the knock the punch set.

The first method in which they can be used is in any H frame hydraulic press where the material you are dimpling is small enough to fit between the vertical frame rails of the press. Simply drill the appropriate size hole using an industry standard hole saw, then insert the male and female dies to the correct orientation. Then using the hydraulic cylinder, press the dimple dies down to flare the metal.

The second method is they can be bolted together using standard off the shelf grade 8 fasteners 3/4" dia bolt or 7/16" dia bolt depending upon which dimple die size you have. This method is ideal for large pieces of metal that are too large to fit in a H frame style press, dimpling on a vehicle or dimpling after the fact... "Hey we should have put a dimple die there..." Well now you can with the through hole design that is standard on every die set we produce.

The third method is they can be pressed together using a 10 Ton Hydraulic Knockout Punch Driver as shown in the picture above. Not sure what one is? Check out Ebay or Harbor Freight, they sell for ~$100.00 shipped to your door step and they are a real time saver if you are dimpling a large number of items or hard to reach dimple die locations. It includes a manual hand pump to apply hydraulic pressure to the punch set. The knock out punch set is a quality product as we have dimpled thousands of holes for years using this set up.

The over all outside diameter of the pipe dimple dies are as follows:


.75" pipe dimple die OD = 2.40"
1.00" pipe dimple die OD = 2.70"
1.25" pipe dimple die OD = 3.18"
1.50" pipe dimple die OD = 3.39"
2.00" pipe dimple die OD = 4.20"
The HF Knock Out Punch Set can be purchased for $90 HERE.

Please Note: We do not sell the knock out punch set or Air/Hydraulic foot switches, they are shown in the image gallery for reference only.
Related Products
Regular price

$539.95
Sale price

$539.95
Unit price

per
Free Shipping
Sold out
New
Backordered
Awesome dies.
Shopped around for dimple dies and glad I went with these. Pricy but worth it, the quality is perfect. Shipping was good.
Dimple dies are perfect
Great product, very nice machining.
Pipe Dimple Dies 5 piece set
I finally got a chance to use these today with the H/F knockout set. They worked perfectly. They are not cheap but the craftsmanship is top notch and it's almost a shame to get them dirty!
Professional Badass
Great product and fast shipping. I will definitely buy from Swag again.
Owner
Great product so far, has done everything it is described to do and the fit and finish of the dimple dies is great quality. One thing to make sure is that when you measure out where you want your holes is that they are far enough spaced apart for the dies so you don't get any deformation in the dimple on your steel from one hole to the next. Only have used it a few times and with hydraulic ram and has worked flawless. Can't say much about just bolting them together but I bet they would work just the same just take some time and effort. Will be buying more from these guys for sure.