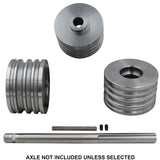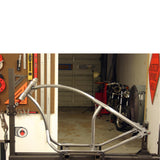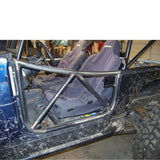 SWAG Off Road Tubing Roller Dies Compatible With

HULK

or Harbor Freight Tube Roller
When you purchase the Harbor Freight Tubing roller it comes with three roller die sets, 1.0" 1.5" and 2.0" round tube dies. If you are looking for additional tubing roller dies for the Harbor Freight tubing roller and or the HULK tubing roller you have came to the right spot.
Please note, the SWAG 4130 Replacement Drive Axle is required to use our dies in the Harbor Freight Tubing Roller. You can find our axle

HERE
As it currently stands we have 78 different sizes of dies available. We stock round tube dies, square dies, round pipe dies as well as a universal edge roller dies set for rolling flat bar on edge, cap rail dies and dies for rolling square on edge in a diamond shape. These dies are compatible with our HULK tubing roller as well as the Harbor Freight tubing roller.
Each die set is 100% CNC machined out of 1018 steel for a precise fit. Every die set includes two outer non drive rollers and one center drive roller with key stock with set screws.
The SWAG machined 4130 chromoly premium drive axle is required and must be used with our dies. One drive axle is compatible with every dies set we produce, hence you will only need one axle regardless of how many die sets you own.
The drive axles as well as the center drive rollers are now broached and keyed. Using the a key way will eliminate the hassle of constantly tightening the set screws and trying to keep the "wobble" out of the center drive roller.
The drive axle has 4 machined flats for the crank wheel which increases the grip and reduces premature wear.
We currently offer the dies in the following configurations round tube, round pipe, square, as well as a full line unique dies for doing flat bar in edge or square in a diamond profile.In addition we also offer a full line of Delrin dies in round tube, round pipe and square sizes.
Delrin dies are well suited for aluminum, copper, brass, and chrome finished where abrasion or scratches on the material are not acceptable.
NOTE: Tube rolling is a bit of an art; where time and patience is your friend. Due to so many operator controlled variables, there is no warranty on our dies. GREASE the contact surfaces of your dies to prevent premature wear. We sell Tube Lube separately which is designed specifically for rolling applications. Axle grease, white lithium, or molybdenum disulfide grease will work. This is especially important while rolling square tube. As a general rule round tube, round pipe, flat bar, and cap rail dies can roll hoops with a minimum diameter of ~2 Ft. Square dies can roll square tubing into a hoop with a minimum diameter of ~8-10 Ft. Rolling square tubing without grease will damage your dies, the tighter the arch, the more the damage.
NOTE: If you are planning on rolling square tubing in the Harbor Freight roller, we HIGHLY recommend utilizing our Weld On Wing Kit. Failure to do so will likely result in damage to your dies.
Not sure of the difference between pipe and tube? Simply put, tube is measured from the outside diameter, and pipe is measured on the inside diameter of the part. For example: 1-1/2" pipe will have an OD of 1.90", where as the 1-1/2" tubing will have an actual OD of 1-1/2" See attached pipe size table below.
Our Hand Rail Cap dies are exclusively made to fit King Metal's "Cap Rail" profile material. These dies will fit King Metal's 1.750" small profile, the 2.250" large profile, as well as the .50" channel which the cap rail mounts to. We created these dies with the intention of having everything readily available for your hand rail rolling needs, without having to switch out dies when changing material. Check out our example picture below and demonstration video above for more information.
Needs to be more generalized
King dixie cap is not the norm in the rail industry. In 30 yrs of custom rail work I've never purchased top cap from them, always from a major aluminum supplier. They all have the same type and much cheaper than king. We had to have your dies revamped, unfortunately, because swag would not accommodate us. Too Bad
James,
Thank you for your review.
We have sold thousands of these cap rail dies over the years and in that time we have had maybe 10 people complain that we are using the King Metal profile. In fact, the reason we selected the King Metal profile is because we spoke with quite a few craftsman from across the country who have many decades of rail experience between them and they universally suggested the use of the King Metal.
The real benefit of the King profile is that it is somewhat of a middle ground. Most dixie cap (including no-brand name cap from metal suppliers) will work with our dies even if it isn't a perfect fit. When the material is slightly different from the die profile, the die will actually conform to the material over time.
All that said, I am glad that you found someone to reprofile your dies.
Please don't hesitate to reach out if there is anything we can help you with.
Thank you,
SWAG Off Road
Excellent product and price!! Thanks!! Big Time!
5 star these worked perfectly would order them again
Excellent dues for tube rolling
Super strong machined billet, heavy duty, and they keep the square tube from getting all corkscrewed in the roller!
My only complaint is that the locking key did not fit in the axle notch with the die on it. Otherwise it is awesome and I'd highly recommend!
Hello,
I do apologize for the tight key way.

We machine those key ways to be ~1 thousandths larger than the size of the key stock (or at least the size the key stock is supposed to be, which is ~5.95mm.) The reason being that the torque on those components is so great that it actually causes the key stock to compress and the key way in the axle to stretch open after a few uses. In the past, we oversized the key ways slightly so that, when new, the axle would slide right in. Unfortunately, that meant that after a few uses there was quite a bit of slop, resulting in backlash and weird distortions in the material being rolled. The problem with machining to exact size like this, if there are any burrs in the axle or if the key stock is a few thousandths oversized, they can be a bear to insert and remove until that stretching occurs. Since we have those axles machined to extremely tight tolerances, my assumption is that the key stock you received is a few thousandths oversized.
If you would be willing to grind the key stock ever so slightly on two adjacent sides or rub it down with some scotch-brite so it fits in the axle, I would be more than happy to send a piece of replacement key stock so that after you axle stretches from use you will still have the tight tolerances we intended. Send me an email at sales@swagoffroad.com and I will get a replacement key stock headed your way.
Thank you,
SWAG Off Road
Thank you,
SWAG Off Road