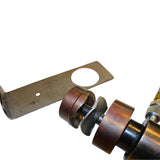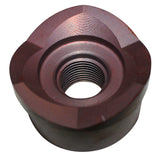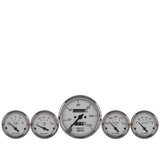 SWAG Off Road Knock Out Punches (Automotive Gauge Sizes) 2-1/16" & 2-5/8"
Have you tried to install a set of automotive gauges in your custom hand made dash only to find out that they don't make the hole saw the size you need? Problem solved! These knock out punches are compatible with off the shelf aftermarket automotive gauges.

Are you looking to increase the speed and accuracy when cutting holes in plate steel, clean up the quality of the cut, or have you tried using a hole saw only to have it catch and "walk" across your work piece, effectively destroying your dash?
The SWAG knock out punches can effectively eliminate all the problems commonly associated with inexpensive hole saws. The SWAG knock out punches are capable of cutting up to .1875" aluminum and or .125" mild steel, .083" chromoly, & .083" stainless.
Made in the USA out of domestic steel. These knock out punch dies are CNC machined out of 4130 quenched and tempered chromoly steel then heat treated, hence their brownish/orange tint. Simply put, these punches are the highest quality dies that we can produce.
These knock out punches are pressed together using a 10 Ton Hydraulic Knockout Punch Driver as shown in the 2nd picture above. Not sure what one is? Check out Ebay or Harbor Freight, they sell for ~$100.00 shipped to your door step and they are a real time saver if you are dimpling a large number of items or hard to reach dimple die locations. It includes a manual hand pump to apply hydraulic pressure to the punch set. The knock out punch set is a quality product and we have dimpled thousands of holes for years using this set up.
The HF Knock Out Punch Set can be purchased for $90 HERE.
Please Note: We do not sell the hydraulic punch driver and or the Air/Hydraulic foot switch, they are shown in the image gallery for reference only. At this time we are not going to split up our knock out punches individually. The thread pitch on the knock out punch dies are a 3/4"-16 TPI.
Our 7 piece knock out punch set set shown HERE is designed to compliment the automotive knock out punches listed above.
Our 8 piece tube dimple die set shown HERE is designed to compliment our 7 piece knock out punch set.
This Punch is a Knock-Out!
I got the 2-1/16 knock out punch - it was delivered right away (free shipping) by USPS priority mail. Used it the next morning - it works great, nice sharp clean cut - goes right through. Be advised though - it does not come with a bolt - you will need a 3/4"-16 (fine thread) bolt about 3" long to use it.
Mechanical contractor
Needed to fag a new dashboard with 2 inch gauges for a diesel screw compressor. Laid out configuration for 5 gauges, drilled pilots with vary bit and punched them out in minutes. Worked excellent!
Owner
The purchased knock out worked flawlessly and as advertised. Showed up ahead of estimated time. Everything I have purchased has been made with craftmanship and quality in mind. Had to spend a bit of time figuring out the one to purchase, the site led me to believe i was getting 2 for the price but after reading it all came clear. Money is not wasted on this tool I am sure I will use it for a life time.
Great Product
Quality made product, Bought the 2 1/6 knock out punch real sharp cuts metal like its going through butter ,Right size for the Gauges , Satisfied with my purchase from SWAG , Thanks .