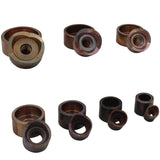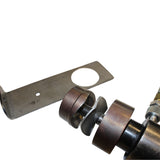 SWAG Off Road Knock Out Punch Set (7) Pieces (Tube Sizes)
(3/4", 1", 1-1/4", 1-1/2", 1-3/4", 2", 2-1/2")
Are you looking to increase the speed and accuracy when cutting holes in plate steel, clean up the quality of the cut, or have you tried using a hole saw only to have it catch and "walk" across your work piece, effectively destroying your work?
The SWAG knock out punches can effectively eliminate all the problems commonly associated with inexpensive hole saws. The SWAG knock out punches are capable of cutting up to .1875" aluminum and or .125" mild steel, .083" chromoly, & .083" stainless.
Made in the USA out of domestic steel. These knock out punch dies are CNC machined out of 4130 quenched and tempered chromoly steel then heat treated hence their brownish/orange tint. Simply put, these punches are the highest quality dies that we can produce.
These knock out punches are pressed together using a 10 Ton Hydraulic Knockout Punch Driver as shown in the 2nd picture above. Not sure what one is? Check out Ebay or Harbor Freight, they sell for ~$100.00 shipped to your door step and they are a real time saver if you are dimpling a large number of items or hard to reach dimple die locations, it included a manual hand pump to apply hydraulic pressure to the punch set. The knock out punch set is a quality product as we have dimpled thousands of holes for years using this set up.
The HF Knock Out Punch Set can be purchased for $90 HERE.
Please Note: We do not sell the hydraulic punch driver and or the Air/Hydraulic foot switch, they are shown in the image gallery for reference only. At this time we are not going to split up our knock out punches individually. The thread pitch on the knock out punch dies are a 3/4"-16 TPI.
Our 8 piece tube dimple die set shown HERE is designed to compliment our 7 piece knock out punch set.
Our automotive gauge knock out punches shown HERE are designed to compliment our 7 piece knock out punch set.
Related Products
Regular price

$449.95
Sale price

$449.95
Unit price

per
Free Shipping
Sold out
New
Backordered
Seven piece tube size knockout set.
Outstanding quality. Used with HF knockout punch which I have had for years. Very quick knockout. Nicely machined and treated. Highly recommended.
Fabricator
I had never used a knock out punch before i bought this set, i had only used hole saws to make the holes i needed. These are a huge upgrade from a hole saw they produce a precise hole quickly with very little deburring required. They do seem expensive when you look at the price but they are worth every cent in the time you save and material you will no longer scar up with hole saws.
Punch holes
This knock out punch set is very well made. I punched 78, 2.5 holes in a project that I was dreading. It went very fast and was actually fun with this setup. I purchased the tube dimple die set a few years back now I able to punch the correct size hole with ease. These tools will outlast me.
Another Great Product
We have bought from swag offroad for probably 15 years or more and they never cease to impress. Top quality equipment that makes you not hesitate to buy anything they make. 10,000% satisfied for the past 15 plus years. Uncle Stogys
cool dude.
These punches are awesome. works seamlessly with Swags dimple dies. much cleaner and faster than hole saws. ~.475" for the 2 smallest sizes and .75" for the rest and you have 7 different sizes. i have a cnc plasma table (i use it to cut the pilot hole) and i still use these since they're so damn precise, and quick.