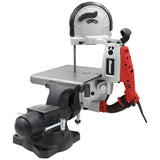 SWAG Portaband Table - Base Model
Here at SWAG our Portaband tables are built for individuals looking for quality, 100% American made tools at an affordable price. Designed for those working with limited space and or those looking to maximize the full potential of their hand held band saws.
The SWAG Base Model vice mounted Portaband table was our first ever item to debut on our website back in 2008, and has remained virtually unchanged to this day. With its simple yet robust platform the V1.0 Portaband table is laser cut out of 1/4" thick steel so it will easily outlast the saw that is bolted to it.
To convert your saw into a vertical band saw installation could not be any easier, remove the factory foot guards two or three screws depending upon model and reinstall the table with the provided fasteners.
This kit contains all the necessary hardware to attach your Dewalt or Milwaukee deep throat Portaband to the SWAG Portaband tables. This table does not come painted.
Due to the blade guard mounting hole locations on the Harbor Freight Model # 47840 Portaband, there is new foot guard mounting plate that is required to adapt the saw to fit the Base Model Portaband table, hence the additional $4.00 in product cost.
NOTE: The WEN Band Saw must be modified slightly in order to mount to this table. Instructions are provided in the kit.
Our V1.0 table is cut on a CNC laser out of 1/4" thick steel plate, formed on a CNC press brake and weighs in at ~ 15 pounds for ultimate durability. The table dimensions are 1.50 tall, 10.75" deep & 12.0" wide.
"Choke Out" Trigger Control Kit
The Choke Out Kit allows you to turn your saw on by simply pulling the handle attached to the front of your table. Installation is simple and only requires a small modification to the table top. The Choke Out will work with any saw, including battery operated models.
Imagine how easy your job is going to be using the foot pedal to start and stop your SWAG Portaband table. Plug your Portaband power cord into the outlet on the foot pedal. Plug the foot pedal cord into a 110 volt outlet. Press the pedal to start the saw, then remove your foot to turn the saw off.
Magnetic Pen Holder "The Writey Tidy"
Every shop seems to have the same issues, the lost 10 mm socket, the broken tap, and the dozens of misplaced pens. We were getting sick of never being able to find a Sharpie so the Magnetic Pen Holder was born. 3D Printed out of durable PLA+, there are two powerful 5 lbs. magnets inlaid into the holder so you can stick it to your Portaband table, your shop press, or your welding cart. Room for 4 markers and 3 pens, there's plenty of room for all your different writing implements. This is one of those add-ons that you don't realize how badly you need until you start using it!
What I needed
Can't believe I waited so long to get it….. great solution….. would have cost me nearly as much to build a bad version of it myself ….. thx
Great way to better use your porta bandsaw!
Love this product! Heavy steel table that clamps in your vice. Recommend you have a large heavy vice for this to work correctly. I ordered the optional "choke out" kit and it works perfectly so the saw can quickly be shut off. Highly recommend this option for your portable bandsaw.
Awesome tool
Very nicely made base. Fit my milwaukee saw perfectly. A great option if you want to make your own stand. And definitely opt to include the footpedal.
Base table + Choke: Works great with Anbull R2103, but needs custom T-slot nuts to get square.
I had purchased an Anbull R2103 bandsaw with upgraded base from Amazon and had been looking for a base to allow cutting of sheet metal. I researched some alternatives and decided that the Swag tables are way more reasonably priced for stable looking tables. However, there was no existence proof that the Anbull saw would fit. I did find the WEN 94396 manual online and the drawings and instructions for it seem near identical to those for the Anbull.
As a result, I decided to purchase the base table model direct from Swag, in case some unforeseen issues arose when mounting the Anbull saw. My plan was to test things out with the table mounted on my vice and if the saw fitted without issue then I would build up a girder type frame to allow the vice to be freed up.
I followed the Swag instructions and cut my saw's dual wide nut in half (did it the old fashioned way with a hand saw!) and then the band saw was able to be mounted to the table using the 2 holes marked as for the WEN saw. Not many threads being held in the thin nuts and and seemed alarming. No matter what I tried, I could not get the saw blade 90 degrees to the front edge of the table (lets call that the x direction) and traced the problem to the 2 table holes for the WEN not being square to the front edge. They are 50 mils apart in x, almost certainly due to being boxed in by all the other holes in the table! I'd call this an inconvenience and not a problem, as it's debatable whether the slight non perfectness of the saw blade really makes any difference when cutting, other than making the cut a little wider and maybe wearing out the blade faster.
I therefore decided to make a pair of custom T-nuts out of some scrap steel as that would also allow more threads to be in contact with the 'el cheapo' looking Swag supplied bolts. I tapped an M6 thread in each nut, but offset by 25mils from the nut's centerline, to cancel out the table's 50mil offset. So far I have not detected any wear on the 2 supplied M6 bolts after multiple mounts/dismounts to the table when using these custom thicker nuts. The thicker nuts also make aligning the nut to the bolt way easier as one can see the nut in plain view as one slide it under the table's holes. When using the original half nuts this alignment of the bolts to the cut nut was annoyingly difficult to do, given the nuts end up being so for under the table that one needs to shine a light down the holes to even find the nuts!
I also made up a girder based frame to hold the Portable table. It only cost $26 for the girders and some bolts (look up 'Clopay Garage Door Rear Track Hanger Kit' on Homedepot.com) . I did have to get a few more nuts and bolts, but overall the entire frame ended up sub $40.
I had also purchased the Choke-out trigger kit, but found that tough to hold tightly in place to my saw's handle, so I used a couple of scrap 90 degree brackets to lock the control cable end of the trigger (scissors) assembly to my frame. They were conveniently pretty much the right size for this arrangement to work.
I have attached some pictures of my setup and the T-nuts I fabricated.
Overall I'd say that the table is definitely worth the money. It's simple design allows me to quickly move my saw from the Swag horizontal table to its original rod/bar cutting optimized frame.
Hello,
Thank you for the positive review and I am very glad to hear that you are satisfied with your purchase.
Impressive build!
Please don't hesitate to reach out if there is anything we can help you with.
Thank you,
SWAG Off Road