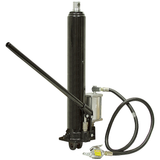 8 Ton Air/Hydraulic Long Ram

Looking for the correct sized ram to power your tubing bender? Well look no further!

These high quality 8 Ton Long Rams will fit in both our Machined Ram Mount as well as our Formed Ram Mount. We include our 3D Printed Thumb Knob for the pressure release valve to make adjustments quick, easy, and toolless. Best of all, they ship for free to our US customers!
Good Product
My Harbor Freight engine hoist piston started to settle under load. Rather than rebuild it or replace it with another cheap one, I started researching something nicer. Found this one here on SWAG Off Road and reached out to customer service with some questions. In short, they were very prompt with replies and thorough with explanations. This cylinder was an exact fit as a replacement and now has the added perk of pneumatic actuation. It has several improvements in build quality that you don't see in the cheaper ones. Time will be the ultimate judge but so far I'm impressed with it. I had to do a little air purging to get it to operate smoothly. A product of it being on it's side or maybe even upside down during shipping. Instructions for it were included and it was easy. No tools required, just a sequence of actions.
I'd recommend both this as a product and SWAG Off Road as a company.
On the fence about this one
I hate to give a bad review about anything. With that said, this product does work and works well. Mine came defective. The air pump that operates the ram was missing a gasket on the end cap and would leak and blow fluid out. I've made several attempts emailing swag but haven't got much of a response. I actually went to harbor freight and bought a 12t bottle neck jack and put that air pump on and it works great. Nothing against swag but I'm sure they out sourced this ram and it looks just like everyother one out on the market that go for way cheaper. So it's a mixed review from me. Does the ram work yes. If I can put harbor freight parts on and they bolt right up then I'm not sure about quality. I think next time I might try a way cheaper alternative. But again after I fixed it it works
Ryan,
Thank you for your interest in our products and I do apologize for the trouble you experienced with your long ram. I appreciate your patience as we went back and forth over the course of a few weeks trouble shooting your leak. Glad to hear that you came up with a solution that works for you.
Please don't hesitate to reach out if any questions come up.
Thank you,
SWAG Off Road
Works as it should
Not sure what to say about it, other than it works better than the previous one that broke. It easily pushed 2" .120wall DOM. The last one struggled greatly. I do like the older metal knobs better than the 3D printed ones. I'd pay more for that if it were an option.
As always, SWAG is great to deal with and is my go-to for metal fab parts.
Hello,
Glad to hear that you are satisfied with your new ram! We are actively working on a new Machined Knob design to work with this style of pressure release. Our current issue is that the cross pin in the release valve is ground square and then the valve screw itself is squeezed down onto the cross pin, making it quite difficult to remove.
Don't hesitate to reach out if there is anything we can help you with.
Thank you,
SWAG Off Road
Good but could be better
With the jack I received I also received a machined thumb screw but the release valve is different there is no roll pin to punch out and slide the swag one on.
How it works
Works ok in the vertical position, but doesn't work in the horizontal position.
Michael,
Thank you for your interest in our products.
If your Hydraulic ram is not working in the horizontal orientation, there are three potential causes. First, it is possible that an air bubble made its way into your air pump. In order to bleed the ram, please follow the bleed instructions that came with the ram when we originally shipped the item. If you no longer have the instructions, send me an email at sales@swagoffroad.com and I would be happy to send them over to you.
Second, your ram may not be oriented correctly when in the horizontal position. When laying on its side, the ram MUST be oriented with the air pump pointed straight down and the pressure release knob pointed straight up. The air pump is fed with hydraulic fluid via gravity so if the air pump is not pointed straight down, the pump will be starved.
The other potential cause is that your ram doesn't have quite enough fluid. If that is the case, the rubber stopper located ~1/3 of the way down the body of the ram can be removed and additional fluid can be added.
I do apologize for the trouble you are experiencing with the ram. If you have any further questions, don't hesitate to reach out to us directly at sales@swagoffroad.com
Thank you,
SWAG Off Road