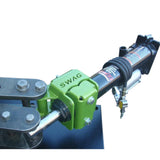 SWAG Formed Tube Bender Air/Hydraulic Ram Mount
Tired of cranking the handle on your tubing bender? Are you using a 6' cheater bar slid over the factory handle to gain mechanical leverage, while trying to read the degree wheel that is ~8 feet away? This kit is designed out of pure necessity and built to be the best kit out on the market.
Designed to fit the JD-2 Model 3, JD-2 Model 32, Pro Tools 105, 105HD, Woodward Fab WFB2, Eastwood 21115, and JMR manual tubing benders. The brackets are laser cut out of high strength 1/4" steel and formed on a CNC press brake. Sold in two configurations, welded or unwelded. Material thickness and bending capacity vary from tube bender to tube bender please consult your user manual for technical information. Rule of thumb if you can bend it manually then the SWAG air/hydraulic bender can bend the same material with ease.
The JD-2 Model 32 has 2 additional steel brackets and several additional fasteners not show in the picture above, hence the additional cost. The formed version of the JD-2 Model 32 is rated up to .120 wall material. If you are bending thicker wall material, .188 or larger you will need our machined air/hydro ram mount.
Please note that this kit is 100% complete, however it does not come painted. The tube bender as well as the 8 ton ram is not included. The 8 Ton Air/Hydraulic ram must have an outside diameter of 80mm. There are dozens of 8 ton rams that are sold on Ebay & Amazon, however a majority of them have an outside diameter of 84mm or 78mm which will not work for this application. The Vevor Ram is not compatible with either of our mounts.
You can purchase a ram through us here.
If you would like a list of other compatible rams, send us an email at sales@swagoffroad.com
 NOTE: The Formed Ram Mount can handle all tubing that are within the abilities of the bender it is mounted to. With that being said, if you plan on bending thick wall tubing (0.1875 and above) we strongly recommend upgrading to the Machined Ram Mount.

Tube Bender Optional Accessory
Imagine how much easier your job is going if you're not having to manually retract your tube bender every time you need to re-pin your die set. The 100 pounds of resistance offered by this return spring is backwards compatible with our Air/Hydro tube bender ram mount. No tools required for installation, just hook it up to your bender and the back side of your 8 ton ram and you're done.
The springs are made of rubber tubing that's encapsulated in a polypropylene fabric sleeve for excellent wear resistance.
Old man is happy
At 75 years old and having enough parts replaced on my body it was time to replace the manual part of my tubing bender. I picked the SWAG cylinder clamp and return spring because of the great reviews and ease of installation. I am very happy with how my bender works now and how much safer I feel using it, great product!
Unwelded brackets
Very nice. Perfect fit and clean. Clamp them together and weld them up. No prep work needed.
Works well
Works well second one I've bought. Welds up just fine with some cleaning up and holds the cylinder tight.
Looks great fingers crossed
I ordered the unwelded need the practice ha ha haven't got it all mounted up hoping my harbor freight cylinder works seem to be 80 mm not positive I've put as much effort in it as I did writing this review so far. Lol but I. Sure we make something work..
Hello,
Very glad to hear that you are satisfied with your Formed Ram Mount!
Just wanted to reach out to say that your stand looks awesome!
Don't hesitate to reach out if any questions come out!
Thank you,
SWAG Off Road