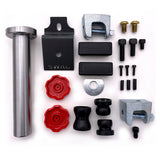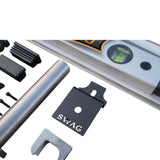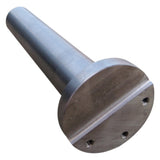 "U-Turn" Tube Bender Digital Read Out Kit
If you have used a tube bender before then no doubt you have had the pleasure of using a piece of glorified coat hanger as the degree pointer.
We have designed a low cost and very accurate digital read out that is accurate down to 1/10 of a degree, with a real time digital display. It works on the following manual, hydraulic or air/hydraulic tube benders: JD2-Model 3, JD2-Model 32, JMR, Pro Tools and Pro Tools 105HD.
Please take a look at the attached installation instructions. This product does require assembly, however we have done our best to provide you clear and well written instruction instructions to help clear things up. The digital angle finder is not included with this kit, it can be purchased directly from Harbor Freight HERE.
We could go on and on about the features and benefits of this product, however here is what one early user had to say about the Swag U-Turn Digital Read Out:
"I found that the instructions were very easy to follow and setup was easy. After getting the U-turn installed and ready to use I played around with some scrap tubing to get the readout dialed in and set. I bent a few different angles and doubled checked with an angle finder. It took about an 1 hour from the time I started to the time I had it dialed in and set.

After it was set I bent up two bumpers and found that it was a lot easier to have a digital readout to get the bends the same every time. It is also very nice to be able to write the bend numbers down for future reference.

All in all I would like to be the first to say two thumbs up. It is nice to know that people like you are out there to make my life easier. Thank you for letting me demo this for Swag Off Road.

I also need to know what I owe you for the U-turn because you are not getting it back, Les."
At this time we are not offering the DRO fully assembled. In order to complete this assembly, you will need to purchase the digital angle finder and assemble the kit. Typical assembly takes ~ 1 hour from start to finish and can be done with basic shop tools.
Affordable convenience!
Great addition to a manual bender. Accurate digital readout that's easy to see and eliminates the need to try to look over everything and see the degree plate.
U- Turn Gauge
I received my u-turn but unfortunately Ive been working so much I havent had the time to put it together and use it yet, although I will say that it was very well thought up and designed and then manufactured with the quality we have all come to expect from SWAG OFF-ROAD great stuff ??
Fabricator/welder
The U- Turn DRO is certainly a welcomed addition to any tube bender. After getting the dies indicated to Zero, I was able to get it within 1/4 degree. I personally didn't have issues getting the U-Turn constructed but I could see where others might. The instructions could be better descriptive.
Owner
Little hard to set up but after some head scratching and a call to the helpful support I got it going and working well
U Turn bender Read out kit
This is a super nice kit. If you bend a lot of tube this is a must have for your model 32. Its spot on every time ,will save you a ton of time, and the quality of your work will be better