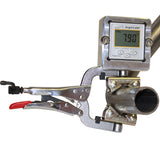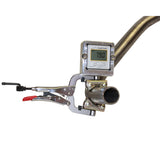 SWAG Plane Of Bend Bracket
If you're tired of guessing the angle of rotation on complex bends and cringe at the thought of how much material you have "wasted," we have a cost effective solution for you.
This kit includes the following: pipe pliers, aluminum machined cube and digital angle finder.
The SWAG Plane of Bend Bracket is ideal anytime your work requires an accurate rotation of the previous bend completed, prior to performing the next bend operation. With the tube bending computer software that is out in the market place today, knowing where the plane of bend is in your tubing will save you time, materials and money.
The top portion is CNC machined out of 6061 Aluminum and is easily secured to your material using the adjustable lockable pliers that feature large V-pads that provide a superior clamping surface to any other PoB bracket out in the market. The SWAG Plane of Bend bracket will fit tubing ranging from 7/8" OD material up to 2.5" OD. Through product evolution and customer feedback, we now machine dual grooves on the bottom of the Aluminum Digital Readout (DRO) bracket. This latest feature allows the DRO to be turned 90 degrees on the clamp; allowing clear visibility for complex bends when the original orientation wouldn't be visible without moving away from the operating position.
The iGaging digital indicator accurately detects where the plane of bend is and provides you a read out of 360° rotation in 180° increments. Just set the unit on a flat reference surface, press the ZERO button to calibrate the display then clamp it to your tubing. The large LCD screen makes it easy to read, and a spare battery is also included.
Great Tools
This tool was very well thought out and designed ,it is so easy to use and takes any guess work out of wondering if you are bending the angle that you really want and not wasting money and material , if you want to make bending your projects right the first time around buy this product !!!!!!!!!!!!!
great tool
I have used the plane of bend bracket a few times now. Locks very solid and is made very well. I use alot of 3/4 inch tube and all I do is put a few wraps of black tape on it and works great.
SWAG Plane of end Bracket
Absolutely love this. Simple, easy and most importantly Fast-n-accurate! For this price, you can't beat it!!!
Great addition to my tubing bender
Ordered this along with a SWAG hydraulic conversion kit for my bender. I used it to put bends in a single piece of tubing that had to be bent in multiple planes. It made the job very easy and allowed me to make multiple pieces with the same bends easily. Great product!
POB bracket
This is an extremely handy tool, very well made. Thanks again for a great product.