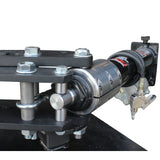 SWAG Machined Tube Bender Air/Hydraulic Ram Mount
Tired of cranking the handle on your tubing bender? Are you using a cheater bar slid over the factory handle to gain mechanical leverage, while trying to read the degree wheel that is ~8 feet away? This kit is designed out of pure necessity and built to be the best kit out on the market.
Now designed to fit the JD-2 Model 3 and JD-2 Model 32, Pro Tools 105 & 105HD, Woodward Fab WFB2, Eastwood 21115, and JMR manual tubing benders, with no restrictions on die sizes.
SWAG Off Road has honed its focus and tube bending expertise over the past few months and redesigned the air/hydraulic ram mount to include the following feature upgrades:
The ram attachment clamp is now holding the ram in line with the bending axis, which results in less wear and tear on the bending ram and increased bending capacity.
100 pound elastic return spring and machined pressure release knob is now included with every kit.
Increased stroke length = increased bending degrees per cycle.
No welding required, 100% bolt on kit.
100% designed, machined and manufactured with all US made components and materials.
Sleek aesthetic and clean lines is what separates this kit from everything else on the market, designed with a high level of attention to detail and superior fit and finish.
This kit allows you to have the freedom to take your tube bender with you. Since the hydraulics are now pushing directly against the arms of the bender, you are free to unbolt your bender from your concrete floor and mount it on wheels, saving you valuable floor space.
Please note: The Swag Infinite 8 tube bender mounting plate is not compatible with the machined air/hydro ram mount.
This kit includes a new mounting plate on which to mount your bender. This bracket is laser cut out of 3/8" steel plate and is compatible with every tube bender that fits our machined air/hydraulic ram mount kit, refer to the picture below of the steel mounting bracket. Some benders may not fit on their factory pedestals. This bracket can be welded to the factory pedestal, allowing you to mount your bender.
Please note that this kit is 100% complete, however it does not come painted. Tube bender as well as the 8 ton ram are not included. The 8 Ton Air/Hydraulic ram must have an outside diameter of 80mm. There are dozens of 8 ton rams that are sold on Ebay & Amazon, however a majority of them have an outside diameter of 84MM with will not work for this application. The Vevor Ram is not compatible with our mounts. 
You can purchase a ram through us here.
Well made
Machined very well. Top quality. No complaints or critiques, should last a life time. Just as good as anything else swag makes great stuff!!!! Easy install just follow directions
Great Product
was on the fence about the hydraulic upgrade but it was so worth it. Great build quality
Very well maid and easy to use would tell others to buy Swag products
Some people learn slower than others.
I've had my PRO105 bender for going on 15 years. A dozen cages, bumpers, ladder-racks, and more. It Took me a little bit of finagling with the alignment of the pins to get it to work smoothly. And I messed up and cross threaded a nut that I had to replace. But why did I not get this air-jack adapter sooner? It's so much EZer to bend 2" X .120 tubing than ever. And the mobility of my bender. It's not bolted to the middle of my shop flood anymore.