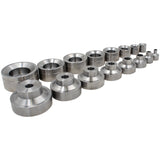 SWAG 8 Piece "Tube" Dimple Die Set (1/2", 3/4", 1", 1-1/4", 1-1/2", 1-3/4", 2", 2-1/2")
Whether it be for cosmetic applications or looking to improve the rigidity of plate steel, the SWAG dimple dies are capable of dimpling 3/16" steel.

Made in the USA out of domestic steel, these dimple dies come with a life time warranty. You split them in half and we will replace them free of charge. It's that simple. These dimple dies are CNC machined out of 4140 quenched and tempered chromoly steel that has a tensile strength of 150,000 KSI. Each dimple die has a through hole drilled into both the male and female dies so they can be used in a few different ways.

The first method is they can be used in any H frame hydraulic press where the material you are dimpling is small enough to fit between the vertical frame rails of the press. Simply drill the appropriate size hole using an industry standard hole saw, then insert the male and female dies to the correct orientation then using the hydraulic cylinder, press the dimple dies down to flare the metal.

The second method is they can be bolted together using a standard off the shelf grade 8 fasteners 3/4" dia bolt or 7/16" dia bolt depending upon which dimple die size you have. This method is ideal for large pieces of metal that are too large to fit in a H frame style press, dimpling on a vehicle or dimpling after the fact... "Hey we should have put a dimple die there..." Well now you can with the through hole design that is standard on every die set we produce.

The third method is they can be pressed together using a 10 Ton Hydraulic Knockout Punch Driver as shown in the picture above. Not sure what one is? Check out Ebay or Harbor Freight, they sell for ~$100.00 shipped to your door step and they are a real time saver if you are dimpling a large number of items or hard to reach dimple die locations. It includes a manual hand pump to apply hydraulic pressure to the punch set. The knock out punch set is a quality product as we have dimpled thousands of holes for years using this set up.

Are you looking to dimple dies holes that are close together but not have them overlap? If so, you need to position them so the outside diameter will not interfere with the other dimple died holes.

The overall outside diameter of the dimple dies are as follows:


.500" dimple die OD = 1.20"
.750" dimple die OD = 1.45"
1.00" dimple die OD = 1.95"
1.25" dimple die OD = 2.40"
1.50" dimple die OD = 2.70"
1.75" dimple die OD = 3.17"
2.00" dimple die OD = 3.40"
2.50" dimple die OD = 4.20"
The HF Knock Out Punch Set can be purchased for $90 HERE.

Please Note: We do not sell the knock out punch set or Air/Hydraulic foot switches, they are shown in the image gallery for reference only.
Dimples dimples
Dimpled 3/16 aluminum like it was nothing. Finish on the dies was good and quality of design & materials was well suited for the job.
The dimple die set are of greT quality. They work great with H freight co. hydraulic punch die tool.
I need to thank a guy on you tube that I saw use your dimple die set. This caused me to check you out.
8 piece Tube Dimple Die Set
Outstanding finish and quality. Very pleased with the ease of use. Highly recommended.
great products
I have only used 3 different sizes of the knock out dies and matching dimple dies. They are great quality and work as stated. I bought the suggested tools from Harbor Freight and happy I did. Much better than the ones i had in the past.