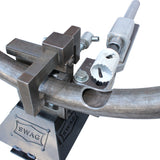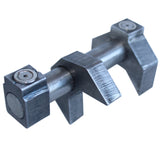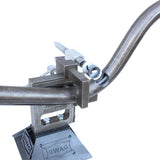 "The Goat" Created For The JD² Notch Master & JD² Beast Notchers
A simple clip on magnetic upgrade for your JD² Notchmaster, JD² Beast, or the Woodward Fab notcher WFN-6, that instantly adds much needed versatility that is currently lacking on your tubing notcher... Notching on a bend.
If you own the Notchmaster, Beast or the WFN-6 tubing notcher, then you know how truly awesome this little add on can be. The GOAT allows you to do notches and fabricate parts that you were never able to do before.
The GOAT will allow you to tackle any project from this point forward without limitations, or go about producing parts that were just too difficult previously.
Constructed out of laser cut 3/8" thick steel with countersunk neodymium magnets that are threaded into the back side of the jaws. The two neodymium magnets do a great job at holding the Goat in place while you manipulate your tubing to be notched. The 1/2" dia "D" profile shaft is constructed out of stainless steel to maintain strength and reduce corrosion. The center jaw is designed to float along the stainless-steel shaft to accommodate any size material at any bend angle while ensuring your tubing is firmly held in place.
Combine this product with our Reach Around Arm and the Super Shaft and you have a notcher that will out work any notcher out there for less money!
The goat
Great addition to my notcher!!
Great product
Well made and solves a real problem
Goat
Holds very well great product
The
Perfect piece. Solved a big problem.
Great Product
The GOAT is a great addition to the notcher. Very satisfied with the purchase!