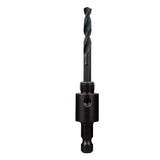 SWAG Super Shaft Arbor Inserts
We save you the trouble of hunting down the correct size shaft arbors that are compatible with our Swag Super Shafts. The 3/8" hole saw arbors are manufactured by Milwaukee and are available in two different sizes.
Small Arbors fit hole saws ranging from 9/16" to 1 3/8" diameter Milwaukee PN# 49-56-7010.
Large Arbors fit hole saws ranging from 1 1/4" to 6 7/8" diameter Milwaukee PN # 49-56-7040.
We have found that it works best to permanently leave the arbor inserts in your hole saws. To remove the arbors from the shaft you simply loosening the 3 sets screws, this cuts down on having to thread/unthread the hole saw and potentially galling up the threads on your hole saws.
NOTE: Holes Saw arbors are not manufactured to a very tight tolerance. If you are having difficulty inserting your arbor into the broached hole of your super shaft, you may need to knock off the edges with Scotch-Brite. We recommend using Milwaukee arbors as they do seem to have the tightest tolerances.
Simple arbors priced right
These are a good brand, good arbor, and a great price. Shipped fast. They do what they are supposed to.