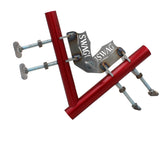 SWAG "3rd Hand"
The SWAG Off Road 3rd Hand is the help you have been looking for. If you have ever wished you had an extra pair of hands when trying to produce the perfect cope angle, or hold complex heavy tubing in place while you tack it into position, look no further. It is rugged, built to last a lifetime and it's never late for work! Constructed out of laser cut 1/4" thick steel, this weld-it-together kit will hold tubing between .375" OD and 2.375" OD.
This tool is well suited for the following applications:
Tacking tubes into position
Measuring cope angles
Holding heavy or complex tubing
Visual tube lay
Test fitting
Fixturing tubes
Duplicating designs
third hand not the same as shown
Other than the image not being the same as image shown.meaning there is not the same cut outs
Hello,
Thank you for your interest in our products.
Back when we cut this batch of 3rd Hand Tools, there was a nationwide shortage of CO2. CO2 is required as a shielding gas for laser cutting the letters since lettering is such a precise operation. Since we were unable to cut the lettering, we opted to laser engrave our logo. Other than having the laser engraving instead of cut out logo, the third hand tool is identical to the photos, meaning the product is functionally identical.
Don't hesitate to reach out if you have any questions.
Thank you,
SWAG Off Road
third hand
Another superb piece of equipment to add to my shop. Thank You, Troy
Great tool for tig welding tubes
This product has upped my tube fab work to the next level. Recently I've been finding myself using the tig over the mig. Really helps with getting the fit up just right and having my hand free to add some filler if I need it.
Josh,
Very glad to hear that you are happy with your 3rd hand tool! It's definitely one of those things that you don't realize will be so helpful until you have one. Just wanted to reach out and thank you for your business and compliment you on the excellent welds in the photos you included!
Don't hesitate to reach out if there is anything we can help you with.
Thank you,
SWAG Off Road
Mr
Perfect! Wish i would have ordered sooner. Great for holding and even better for test fitting pieces. Keep one side clamped and slide pieces in other side until you get the perfect fit.
Retired Mechanic
Recently purchased this product. The assembly was easy, everything fit perfectly. Tried it out on some tubing and this clamp held great. This comes as no surprise as this company and their products are one of the rare companies that really care about the products they sell and the people who buy their products. Perhaps, not just their customers but people as a whole. You'll understand if you call and talk to them, they seem like really good people who care. Thanks Swag Off Road.