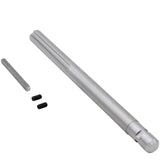 SWAG 4130 Replacement Drive Axle & 6mm Key Stock
Are you looking to replace your Harbor Freight tube roller drive axle with a keyed, high strength 4130 chromoly steel shaft, or over time have you fatigued and/or bent the SWAG drive axle? If you plan on using this shaft with your Harbor Freight dies, keep in mind that you will need to broach a 6mm x 3mm keyway in the three center drive dies to accept the 6mm x 6mm key stock. However, going from securing the center drive roller with set screws to using a key stock is well worth the investment and time.
When switching the drive roller to a keyed drive axle, the center drive roller will always move in a circular motion as opposed to the set screws that push the roller away from the drive axle on three sides. This creates an oblong circular pattern that naturally pushes your material you are rolling harder to one side causing the material to twist.
Drive axel
Great service great product, priced well makes my bender work even better.
Screw doesn't fit
One of the screw doesn't go all the way. I wouldn't recommend to anybody.
Hello,
Thank you for your order.
I do apologize for any confusion but the drive axle is not intended to be used with any screws and there are no threaded holes on this product. If you were attempting to use this axle with the Harbor Freight dies, you must broach a keyway into the bore of the die. The keyway in the axle is not intended to accept the setscrews of the Harbor Freight dies.
Don't hesitate to reach out if any questions.
Thank you,
SWAG Off Road
The works awesome...if you use their dies
Great product.. it really is. But seriously.. why not machine the flats into the axle to accept the rollers from the harbor freight dies? There are already flats machined into it to use the hand wheel so adding a couple more flats it a simple task.. Whoever made the decision to not machine the flats to use the stock dies should be fired. Seriously.
Hello,
Thank you for the kind words regarding our product.
We do not include machined flats on our drive axles for the same reason many customers end up purchasing our dies/axles for their Harbor Freight machine, they end up rolling over almost immediately. In this particular application, a keyway is essential in order to handle the high torque. We used to include machined flats but just like the Harbor Freight axle, they rolled over. This caused a lot of frustration and disappointment for our customers. We do our best to produce products that will last for years without issue, adding machined flats creates a failure point that does not live up to our standard. As stated in the product description for the axle, in order to use our axle with the Harbor Freight dies, you must broach a keyway to accept a 6mm x 6mm key stock. The other issue with the setscrews and machined flat set up is that the set screws push the die to one side unless adjusted perfectly. This causes the drive die to wobble as it rolls and results in a lower quality arc.
Don't hesitate to reach out if you have any questions.
Thank you,
SWAG Off Road
Last piece to the puzzle
I have ordered and put together the Harbor Freight Tube Roller with the wings, bottle jack, additional dies and pipe threader but had made the mistake thinking the shaft was included with the dies (didn't read the fine print). Sent an email and got a call back from them on a Saturday - the shaft arrived the following week (delayed a bit by shipping woes I suppose) but is now fully assembled and working great!!!!! Thanks SWAG Team
Owner
Shaft machine well. Comes with a 3.75 long by 6mm sq. key way. Note: as mention in literature will when need to cut an keyway slot in the stock Harbor Freight roller dies to use this drive axle. But also need to mention it will cost more in purchasing a keyway Broach set than just purchasing a new set of dies from Swag. Length of keyway slot is to long for a standard broach set!! Which will cost you dearly.