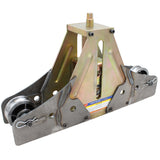 Weld On Wings For Harbor Freight Tubing Roller
The Harbor Freight Tubing roller is in a league of its own based on one simple principle... Price. The HF tubing roller, which includes the machine and three roller die sets, (1.0" 1.5" and 2.0" round tube dies) is a great machine for the price. However at such a low price point there is definitely room from improvement. The Weld on Wings are the biggest single improvement you can make to the HF tubing roller.
The Weld on Wings reduce the total effort required to rolling tube an honest ~50%. This is because they extend the total width of the bottom rollers 6" for the first hole and 12" for the second hole. The further out the outer two rollers are the easier it is for you to roll your material.
The Harbor Freight tube roller is not included with this kit.
If you have used this tubing roller previously then you know how difficult it can be when rolling tubing that is 1.5" in dia or larger or anything with a wall section of 1/8" or greater. With the addition of the Weld on Wings the tubing roller went from a machine that we would use only if we had too, to a machine that we wanted to use it because it opened up fabrication possibilities and the artistic design of our parts.
To make assembly easy, the wings are welded on to the existing side plates with out having to disassemble the tubing roller. The 4 Weld On Wing extensions are laser cut from 3/16" steel, and the 4 spacer plates are laser cut from 1/4" steel.
Square tube rolling dies
Excellent product very easy to use. Good instructions for use.
wing kit for Harbor Fgt Tubing Roller
fit like a glove. EZ Squeezy to install and align. Great value and makes the bender usable with .065 stainless tubing. With the addition of the pipe threader and by adding shims to align the bottom rollers the machine works like one costing three times as much.
Wings for roller bender
a PERFECT cost effective enhancement for the othewise OK harbor freight roll bender.....the wings allow ME to effect a more gentle bend on smaller diameter stainless tube, which otherwise JUMPS too much on orignal narrow roller spacing.........wider spacing is easier to 'get right'.....
Myself
Worked as advertised, great fit and design, had to duplicate a radius and worked great
Owner--frameup
delivered timely. All parts included. Aligned easily and welded simply